THE MOST RECENT count, taken in late November, listed 164 people living outside within Manchester city limits.
And as of Dec. 1, three had died, one from a fire inside his tent likely caused by an improperly installed propane heater.
Those facts paint a stark reality. Unless they die, homeless people aren't going away anytime soon, especially in this time of pandemic, economic dislocation, housing shortages and crises in mental health and drug addiction.
So every day, Manchester Fire Department firefighters and social workers hit the hidden areas of Manchester and make contact with people living outdoors.
They trod snow-etched paths through pine and hardwood forests, soggy riverbanks and rail lines obscured by overgrown brush.
They bring gifts of hand warmers, coats and snacks. They even deliver prescription medicine to camp residents.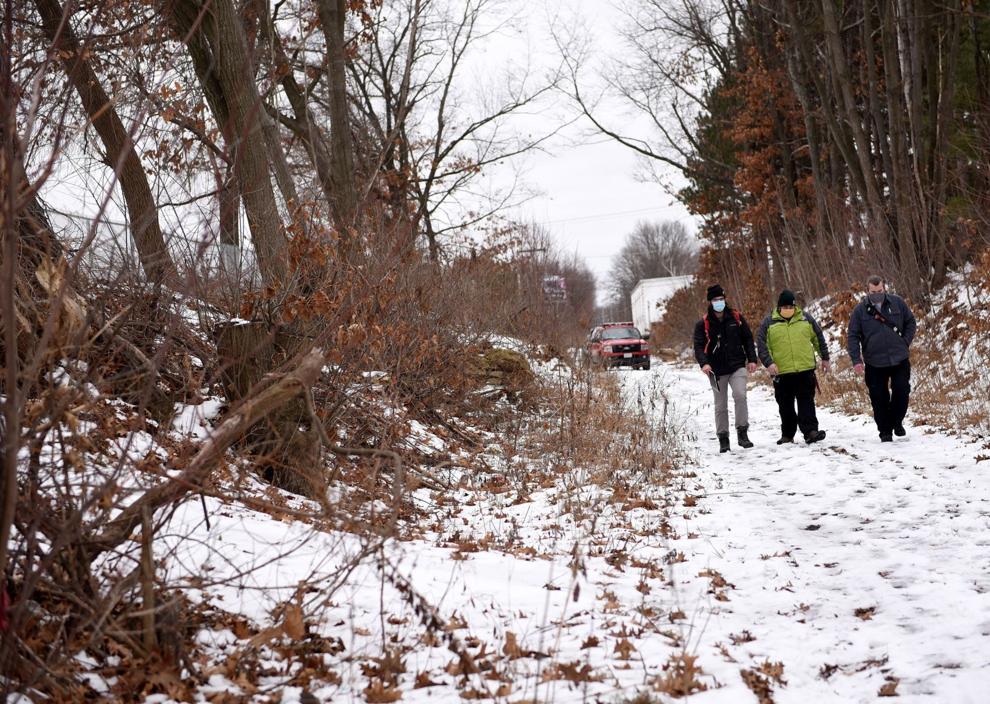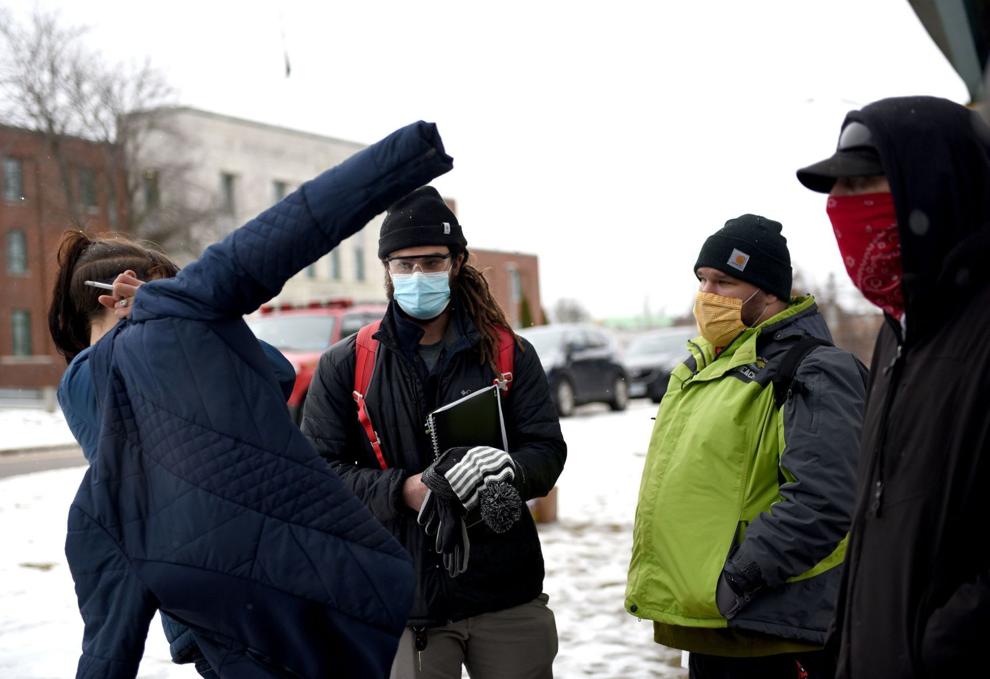 And they line them up for services, something as simple as replacing a lost driver's license or as essential as medical care.
"It's mostly just a lot of talking," fire Lt. Ken Nelson said about the work.
The first thing that Josh Caswell, 29, told me about the team is that they know his first name. We spoke at the land just south of the Firestone auto repair, where about a dozen tents are lined up beside the South Elm Street retaining wall.
"These guys come here and ask if we need any help," Caswell said. He said they show up several times a week.
Last Tuesday, the effort involved two city firefighters, two mental health workers and an outreach worker with Families in Transition/New Horizons.
At the Fire Department, the effort is overseen by Emergency Management Services coordinator Chris Hickey, the soft-spoken official who implemented the Fire Department's Safe Station program during the onslaught of the city's opioid epidemic. His passion for social services is evident; he also launched the city's first opioid prevention program aimed at teens.
He terms his latest effort "Safe Station in the field."
The primary effort is fatality prevention, Hickey said. The endgame is to convince them to move to a shelter. And with the city now leasing space in the former police station, most nights 60 or so beds are available.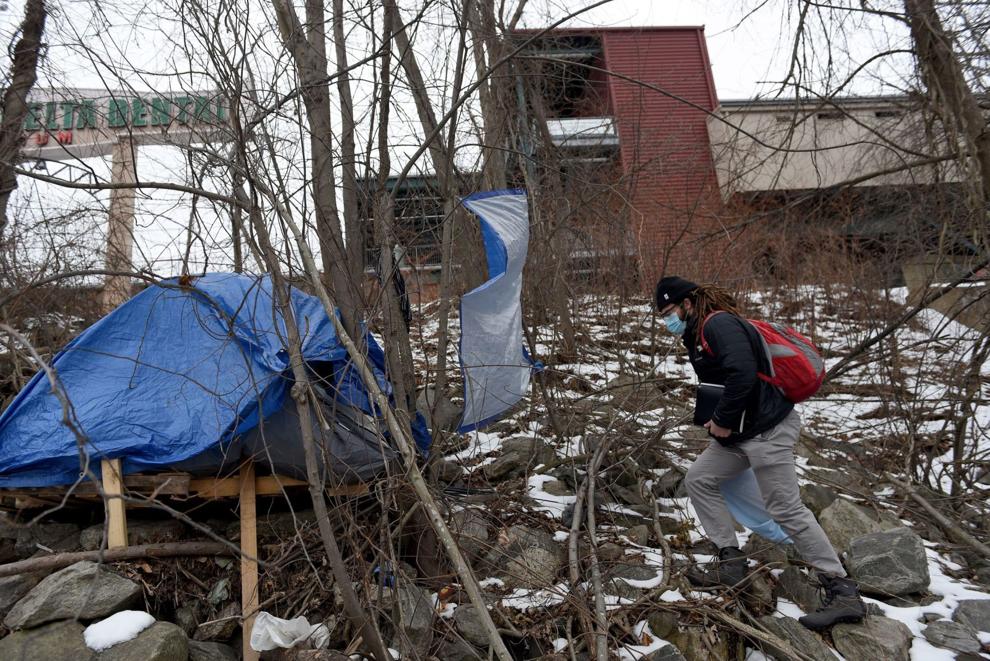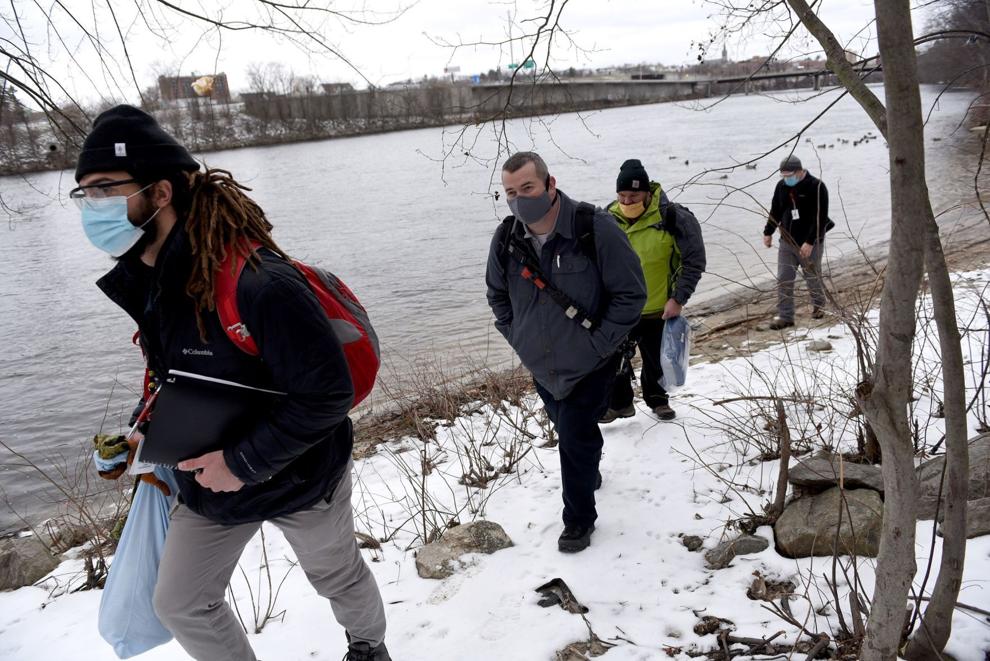 At the boat ramp next to the Fisher Cat stadium, FiT outreach case manager Donald Leighton tried to coax Robert H., 52, to come in from the cold. Robert H.'s tent is one of only four occupied tents, which stand alongside abandoned clothes, camping gear and bicycles.
"I want to speak to you inside," he tells Robert. But Robert, who said he has lung cancer and heart problems, said he's not ready.
"That's what I got to get my butt moving on," he said. But he appreciates the visits, noting that the outreach team brings his prescription medicine.
When nights turn cold, he curls up underneath blankets and lights his Sterno burner inside his tent.
Such a notion — an open flame inside a tent of manmade, highly flammable polyester-like materials — would normally spark a onslaught of Fire Department repercussions.
But this job involves compromise and difficult choices.
Hickey said he doesn't want to take away someone's only source of heat. But with the visits they can make sure heating sources are used safely.
He said none of the outreach workers knew Gary Silver, the 64-year-old homeless man who died when his tent caught fire during a snowstorm in early December. He had just acquired a propane-fired space heater, and friends suspect the tank was not properly attached.
Two other members of the outreach team are mental health workers who look for signs that a person could harm himself for another camper.
"The purpose is to get eyes on someone," said David Carroll of the Mental Health Center of Greater Manchester. The team has run across overdoses, medical emergencies such as infected wounds. One day a resident was lighting other tents on fire.
As of late November, 32 homeless encampments have been identified, according to data provided by Fire Chief Dan Goonan. The big three are the Firestone, Fisher Cat stadium and Canal Street camps, the others are constantly changing, he said.
The city is now working on a schedule to identify vacant sites and coordinate weekly cleanups and removal of abandoned property, Goonan said.
Alderman Joe Kelly Levasseur, who has been critical of the city's approach toward homelessness, said he doesn't have a problem with the outreach teams. But he's frustrated that the people won't go into shelters.
Lately, Levasseur has tried to blame homelessness on Safe Station, the Fire Department's program that received national recognition for using fire stations as an entry point for people with addiction programs.
That notoriety lured people to the city seeking help, Levasseur said.
"You invited them, your obligation is to feed them," he said. Levasseur said he favors a portable toilet for the Canal Street site.
Hickey dismissed any notion that providing necessities and an encouraging word enables homelessness.
"It doesn't make it easier to be homeless," Hickey said about their work. "It makes it so they're not ignored. We'll make sure they're treated like a person."