I grew nervous in January. The city's movers and shakers were finalizing the Manchester Proud report on how to improve the Manchester schools.
The city schools – where both my kids received solid educations but many children don't – were bad enough that heavy hitters in the business community were taking action. It must be really bad.
That's because Manchester schools have one glaring shortcoming.
Poor cities such as Claremont, Rochester and Berlin spend more on their kids than we do.
So with the political, even the moral, imperative growing for Manchester Proud, I thought I'd take a hit as a taxpayer. I just hoped it wouldn't be as bad as my recent plumbing bill.
Manchester Proud released its report in late January. It called for a lot of things that education gurus are pushing nowadays – magnet schools, competency-based learning, an end to grouping students based on their abilities (or motivations). But to my surprise, Manchester Proud avoided any shaming about taxpayer commitment to public schools.
"It would have knocked it off the rails," said Southern New Hampshire University campus President Patty Lynott, who is part of the Manchester Proud council. "We wouldn't have gotten the initiative this far."
Rather, Manchester Proud proposed a lot of magic bullets:
Kick the mayor off the school board.
Shrink the size of the board and give it independence and real power.
And – because we might need some more money for schools – create an independent Manchester schools foundation. Led by community members, the foundation would collect money from "alumni funding streams."
How many big fish are in those funding streams, and how will they flow?
Maybe they'll hit people up for a weekly paycheck contribution like United Way.
Maybe a $100-per plate annual dinner – better yet, a cafeteria lunch – where former students roast their teachers and principals.
Maybe a United Way-like capital campaign with a fundraising thermometer in front of every school.
How much, I asked several Manchester Proud people, can I put them down for?
"There are no current plans for a capital campaign," emailed Barry Brensinger, who coordinated the effort.
"I don't think we have the numbers yet. The next step is to determine what the needs are," said real-estate mogul Arthur Sullivan, who was one of the two or three people who were key to raising nearly $1 million to fund the effort.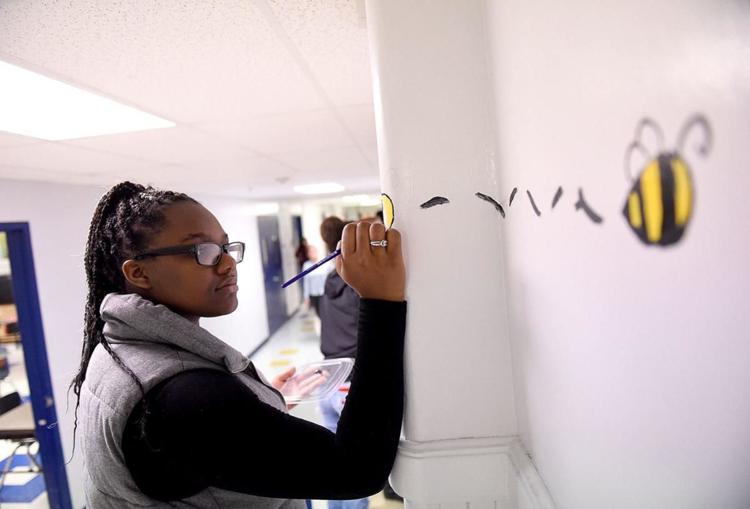 As needs develop, he expects community leaders will fundraise to the best of their ability.
"I'm certainly no Arthur Sullivan," Lynott said. But said she has contributed $2,500 to Manchester Proud already, and as long as she is in Manchester, she wants to be part of the effort.
She said one of the big fundraisers was Ellie Cochran, the 2015 Chamber of Commerce Citizen of the Year and retired head of philanthropic efforts at The Derryfield School. She has that rare ability to get people to give freely.
In an email, Cochran said many Manchester citizens have a long tradition of giving, and a foundation could be helpful. Manchester Proud lists about 800 donors who funded the effort so far. So how much is she in for?
"Contributions are the personal information of donors," Cochran wrote.
Developer Dick Anagnost said he provided significant seed money for Manchester Proud. As for future donations?
"I'm getting hit right and left as it is," Anagnost said.
Teachers, sport teams and clubs hit up Anagnost and Sullivan for donations to cover things the school system doesn't pay, he said. At least a Manchester schools foundation would cut that down to a single check, he said.
"Like most donations around here, it's going to come from the few, not the many," Anagnost said.
Anagnost said he doesn't believe schools are underfunded, and many of the Manchester Proud recommendations can be achieved by just changing the way the schools spend the money they have, a point repeated by Lynott.
"Do I think they're underfunded? Anyone can fix a problem if you throw enough money at it," Lynott said.
Everyone I spoke to said fundraising pitches work when they focus on new programs – "enhancements" in Cochran's words – that are beyond the annual budget.
Manchester Proud did put a dollar sign to its proposals. Price tags for one-time costs, such as computer hardware and software, new curriculum and middle school redesigns for fifth graders, look to top $5 million.
Ongoing costs such as lower class sizes, teacher training and more support for problem students could end up at $3 million. That represents about 1½ percent of current school spending.
Meanwhile, the schools face a $19.5 million deficit in five years if current trends continue, according to a consultant's report linked to the Manchester Proud report.
The recommendations are now in the hands of the school board, which has formally accepted them. It's up to board members and Superintendent John Goldhardt to map out a strategy.
Will the philanthropic support be there?
"We're going to find out," Lynott said. "We're so early in this process, we don't even know what we don't know."