They call. They text. They knock on our doors.
At this point, campaign workers and volunteers are ubiquitous, a contagion that began about eight months ago, when Ellen Sciales and hundreds like her moved to Manchester to work on a presidential campaign.
The good ones transmit a passion that spreads widely. Volunteers will knock on doors on a cold winter afternoon, dial phones incessantly, and pitch their candidate to friends and family.
The Democratic Party estimates that more than 400 people are working for Democratic presidential campaigns across the state, said party spokesman Holly Shulman.
Since May, Sciales has been organizing on behalf of Massachusetts Sen. Elizabeth Warren.
One of the people Sciales has enlisted, retired lawyer Mary Lincoln of Manchester, said, "It's hard to say no to her. She's gotten me to do more than I thought I would."
Lincoln spoke to me at the To Share microbrewery on Jan. 28. She was there to hear actress Ashley Judd talk up Warren and motivate about 50 volunteers.
Sciales, who is 23 and on her first job out of college, worked the crowd as if she were the politician. She embraced and laughed with Manchester-area residents as if they were her sorority sisters.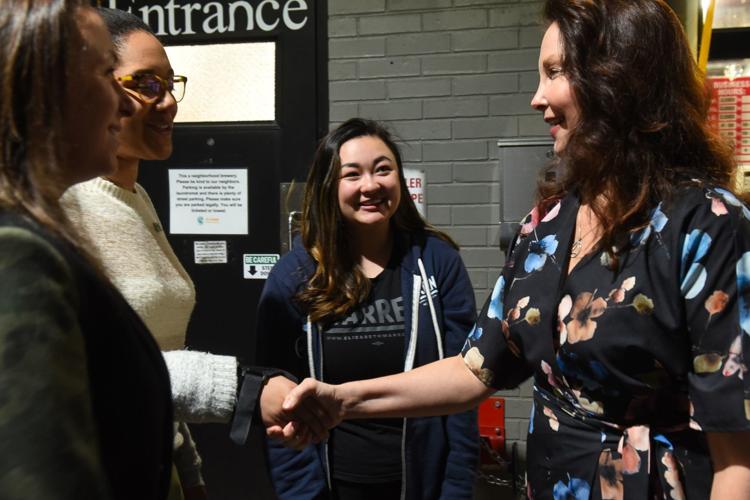 Sciales spoke after Judd. She made eye contact while occasionally glancing at notes. She profiled a volunteer who was returning to the fight after a bout with cancer.
She closed with a call to arms: "I can't do this alone."
Her job is simple. Find volunteers for Warren. Get them to work as much as possible. Make their task easy and fun. Fertilize the grassroots.
She calls it "friend-gineering," a term she attributes to a fellow organizer.
Amelia Coulon, a Manchester-based author, said Sciales courted her for weeks as Coulon weighed Warren and Sen. Kamala Harris, who subsequently dropped out of the race.
Now, she makes telephone calls for Warren.
"It's not that she (Sciales) won't take no for an answer. She wants you to want it as bad as she does," Coulon said.
Sciales said: "I know everything going on in their lives. We're part of the community at this point."
Sciales grew up in Pelham, N.Y., a Westchester County suburb that borders The Bronx. Her father is a physician and her mother a financial compliance officer.
She has a family story that would connect with any American. Her great-grandmother was arrested when Mao took control of China. The crime: an education and the ability to speak English. Her grandmother escaped China hiding under the floorboards of a boat. It took 30 years for them to reunite.
Sciales graduated in May from Northeastern University in Boston. In college, she volunteered for the Hillary Clinton 2016 campaign, but faults herself for doing too little.
"2016 gave me the urgency that motivates me every day," said Sciales. (Note: I spoke to a Warren campaign organizer because they were the first Democratic campaign to respond to my request to profile a campaign worker.)
On Jan. 28, we met at the campaign office, a basement-level suite of rooms in a Chestnut Street office building. Campaign signs cover one entire wall. There's a poster for directions about what to say on telephone calls. Another poster features canvassing tips and a stick figure with scarf and knit hat.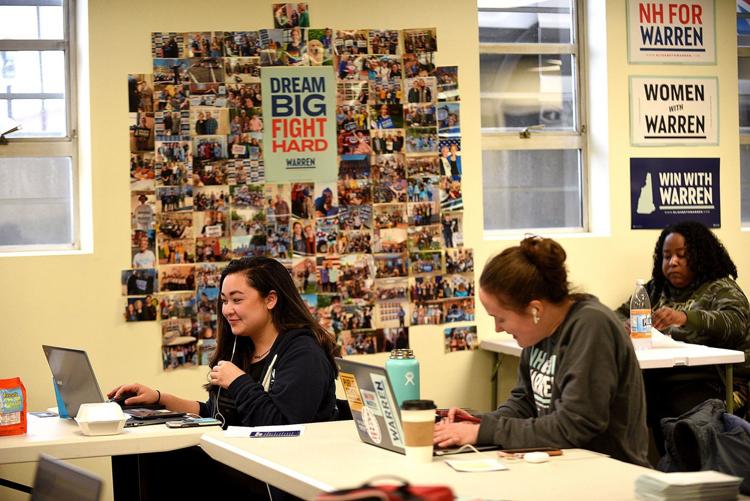 Another wall has a life-sized sketch of Warren. Still another with the words, "She has a plan for that," with some 40 folders where callers can find a synopsis of every Warren plan.
A little after 10 a.m., Sciales was ringing doorbells on Kearney Street in the North End. She wore an insulated Marmot hip-length coat, black leggings and L.L. Bean boots. She jogged between houses.
Over about two hours, she hit some 30 houses and spoke to 11 people.
She got the standard New Hampshire line from most: they're undecided. A few were enthusiastic about Warren, she said.
After lunch, she returned to the campaign office. She and her fellow organizers made telephone calls. Then there was the Judd visit, and a return to the office for more calls.
She lives in a home arranged through sorority contacts. The homeowner, a widow and former Republican, now is devoted to Warren, Sciales said.
The woman has knit her a scarf and headband in Warren's signature color, a light green.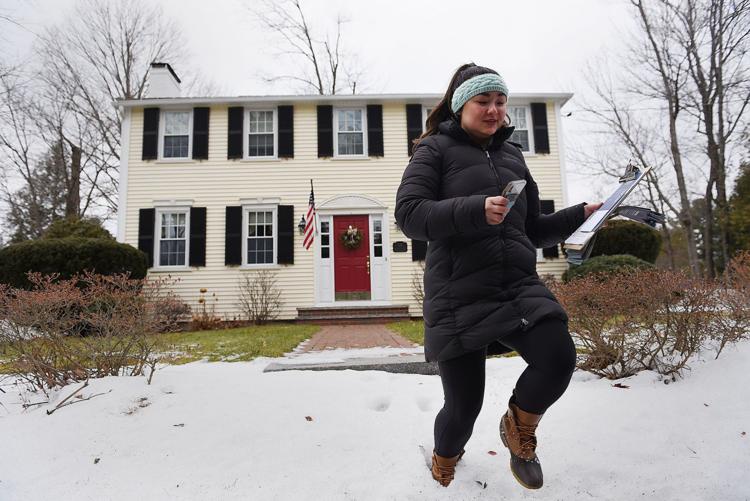 The Warren campaign was one of the first to unionize, and organizers like Sciales earn a base monthly pay of $4,175, according to reports about the Warren campaign union contract. She gets other perks, such as a capped 60-hour work week, 15 paid vacation days, a cell phone allowance, severance and health care.
She calls Warren the perfect candidate.
The Democratic Party's Shulman said the work of organizers amounts to a dry run for the November general election. Democratic presidential campaigns have called or knocked on the door of every Democrat in the state at least once – valuable outreach that will work to the eventual nominee's advantage in November, Shulman said.
Of course, Sciales either loses her job or it radically changes on Feb. 12, the day after the New Hampshire primary.
"We say we want to leave New Hampshire better than it was when we got here," she said. "I would go anywhere for Elizabeth Warren."