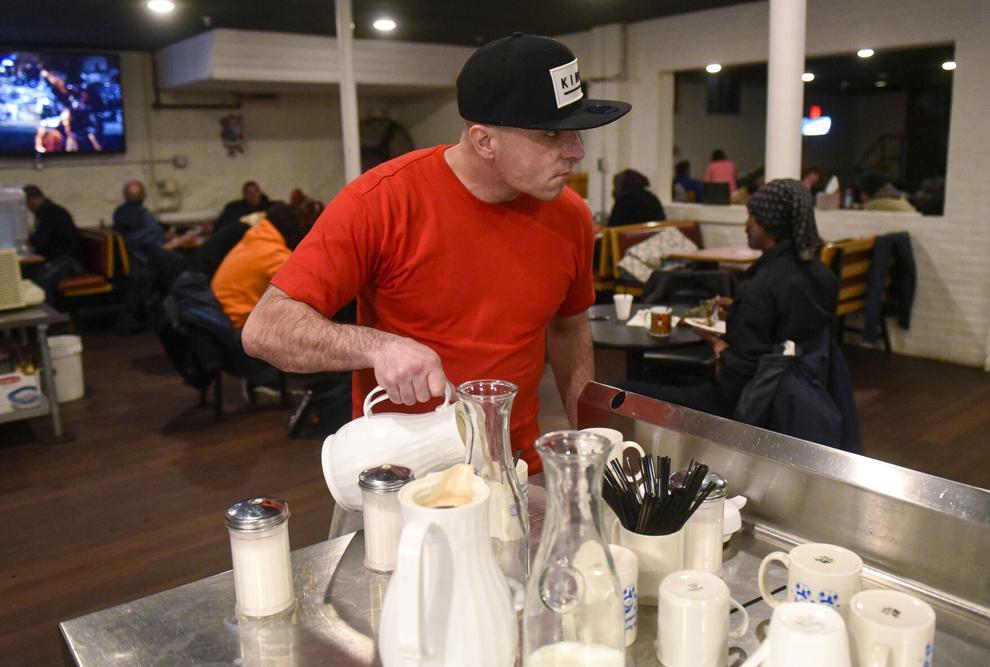 DURING THE LONG NIGHTS of this recent cold snap, everyone is grateful for a warm space and a comfy bed.
You get one out of two at Hope for the Winter at The Twelve, a Plan B for homeless people when the Families in Transition shelter is full.
The room temperature is in the mid-70s, toasty for the 40 or so people who entered last Thursday night after lining up for an hour or more in brisk wind and biting temperatures.
Inside, they get a place to sit, access to a bathroom, something to eat, a charging port for phones, a movie.
But they don't get a bed. Not a cot. Not even a place on the floor to bundle coats, blankets and sleeping bags into a nest for the night.
They can stay all night at the overnight warming station if they abide by the rules. But if someone has to sleep, they do it sitting at a table on a flimsy folding chair. The lucky ones get a 4-foot-long bench in a booth left over from the former school cafeteria.
"I wish I had a way to get more comfortable," said Harley, her friend sprawled out and fast asleep on the top of the tiny table more fitting for a streetside cafe in Paris. "You get some (sleep). But you don't sleep well. You wake up every 20 minutes."
Hope for the Winter at the Twelve opened on Dec. 1, a joint effort by the 1269 Cafe, a Christian-oriented organization that provides services and support to the homeless, and Hope for New Hampshire Recovery.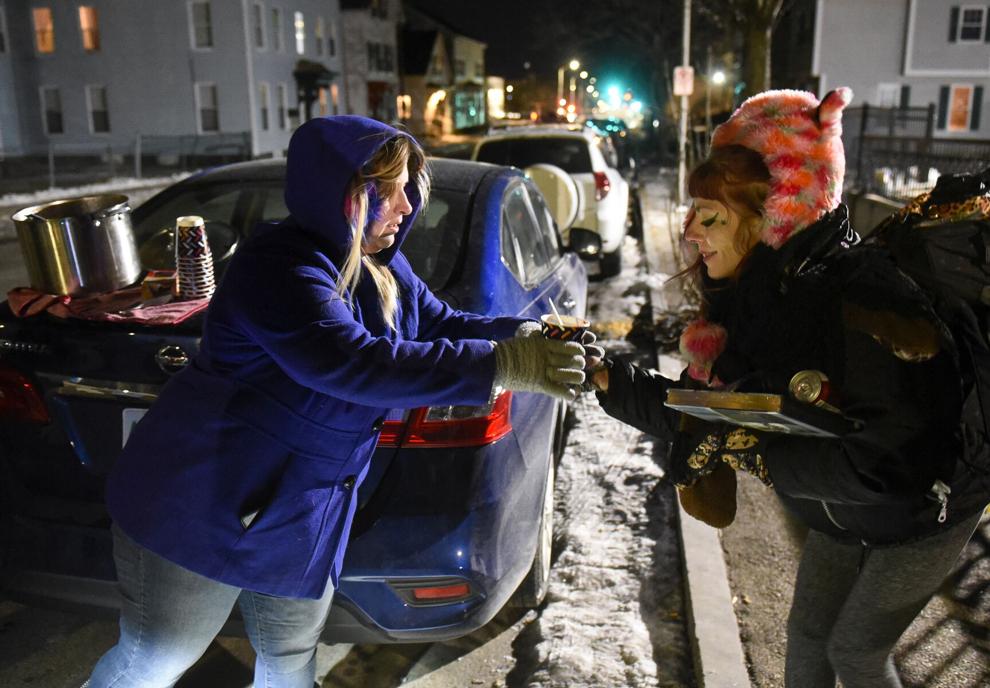 It's located in the basement of the former St. Casimir School, around the corner from the FiT shelter, which reaches its 138-bed capacity early, especially on cold nights.
In regards to capacity, Keith Howard, executive director of Hope for NH Recovery, told the Union Leader in November: "Ideally we would like to have about 50 people in there (the warming station) a night, but we're not looking to turn anyone away."
Organizers said the space provides harm reduction and fatality prevention. But there's not enough room for people to stretch out and maintain COVID-19 safety protocols.
"We're trying to do a warm, familial environment. We want you to feel like you're in your living room," said Craig Chevalier, co-founder of 1269 Cafe.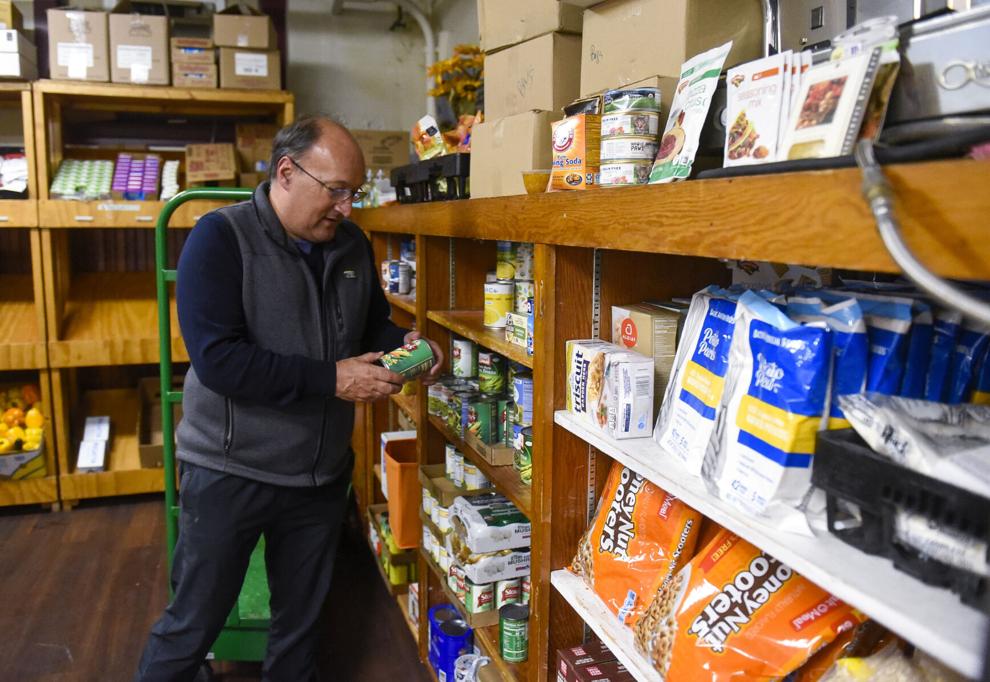 The scene inside
A year and a half ago, 1269 Cafe acquired the former school building with plans to continue its daytime programs and offer residential drug and alcohol treatment programs in the upper floors.
But as the city faced the prospect of low vacancies, high rents and a cold winter, they hosted the warming station.
It's in the basement level. The walls are painted in a warm, off-white tone. The ceiling is a dark green, almost black, and its recessed fixtures shine cones of light that create a mellow nightclub mood.
"It's a wonderful place," said Abdul, 41, who overheard some complaining about the rules and the chief enforcer, Mary Chevalier. "They give us food, a place to stay. It's cold out there."
Drug use is the biggest challenge. Two weeks ago, the Chevaliers implemented a bathroom policy. They installed blue lights in the bathrooms, which prevent a user from finding a vein. Only one bathroom was available for the 43 people staying the night I visited. Users have to sign up, and shifts are limited to 5 minutes.
"It's ridiculous," said Jenn, 50, who sat at a booth. She had a jar of peanut butter at the ready and three cellphones were on the table, with two plugged into a charger.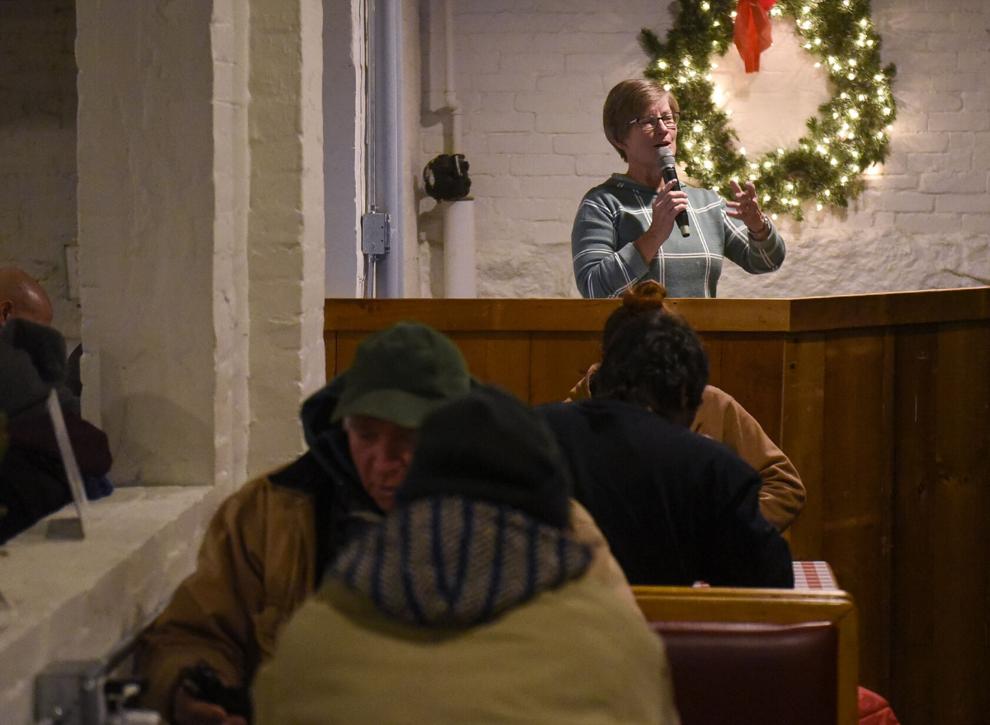 She complained about Mary Chevalier.
"We're like human beings tonight," Jenn said, who attributed Chevalier's soft touch to my presence. "Every other night, forget about it."
Chevalier said she can be a hard ass.
"If you don't, you get run over," she said. "It's partly my nature, partly the nature of the work."
How it works
Doors open at 8 p.m., and every hour after that on the hour.
Chevalier gives newcomers a quick rundown of the rules: If you leave, you can come back in three hours. This is not a safe injection site. You can't sleep on the floor.
We want to love on you, she says, but you have to follow the rules.
An hour later, four people who came in at 8 p.m. get up and abruptly exit. Outside cameras show them piling into a car and returning within a few minutes, a likely quick trip down a drug highway.
It's 9:45 p.m., and Chevalier tells them through an intercom that they will have to wait until 11 p.m. to return. The outside temperature had dipped to around 10 degrees with a steady northwest wind.
Chevalier allowed friends to bring them their coats. They are angry and encourage me to report their plight.
Other times, Chevalier wields milk and sugar for guests' coffee. She listens to one man go on and on about his idea to make money building birdhouses.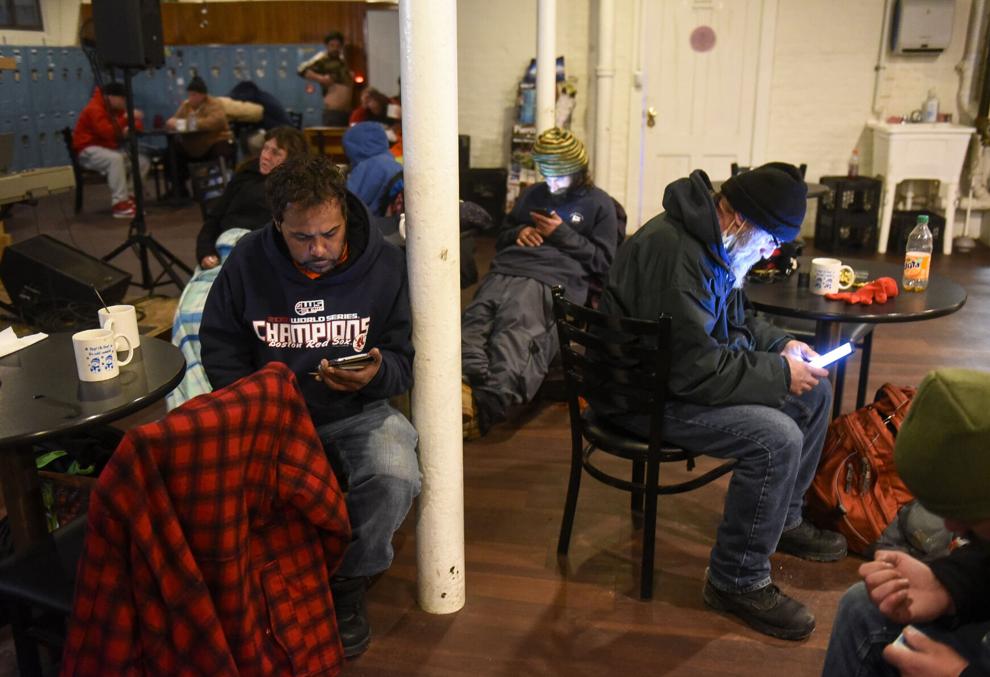 She also confronts a man named Alex who is curled up on a stairwell. He complains that he needs sleep, but Chevalier faulted him for past behaviors and tells him to leave and come back in three hours.
"She calls us all her kids," said Jake R., 33, who witnessed the exchange. "She cares like that."