For the time being, the city workers most responsible for saving our lives aren't the men and women wearing badges.
They're not the ones who carry service weapons or aim fire hoses.
Or the ones who make Hollywood-style arrivals with flashing lights and deafening sirens.
Rather, they work quietly and wield simple tools such as digital tablets and thermometers.
They are city health workers. Over the coming weeks, they will track down who may have been in contact with carriers of the coronavirus or dozens of other infectious diseases.
They will monitor COVID-19 patients in isolation and others in quarantine and ever-so-gently make sure they are staying put.
They will carry out routine inspections to ensure that hospitals, restaurants and nursing homes are taking appropriate measures to prevent the spread of disease.
And in any way possible, they will spread the Prevention Gospel of handwashing, covering coughs and social distancing.
"Ultimately, I sell behavior change," said Aaron Krycki, who oversees environmental health for the Manchester Health Department.
Krycki and Nicole Losier, a public health nurse and supervisor of infectious disease control, are on the front line of the city's response to the COVID-19 pandemic.
These next few months will doubtless entail the most high-profile, if not the most important, task of their careers. Krycki oversees a staff of four; Losier has six.
"There is always something. We do this type of work every day behind the scenes," Losier said, noting the outbreak of Hepatitis A, which by the end of last year had struck 303 people statewide.
If someone is tested for a disease like Hepatitis, COVID-19 or HIV, a public health investigator will start work even before results are in, Losier said.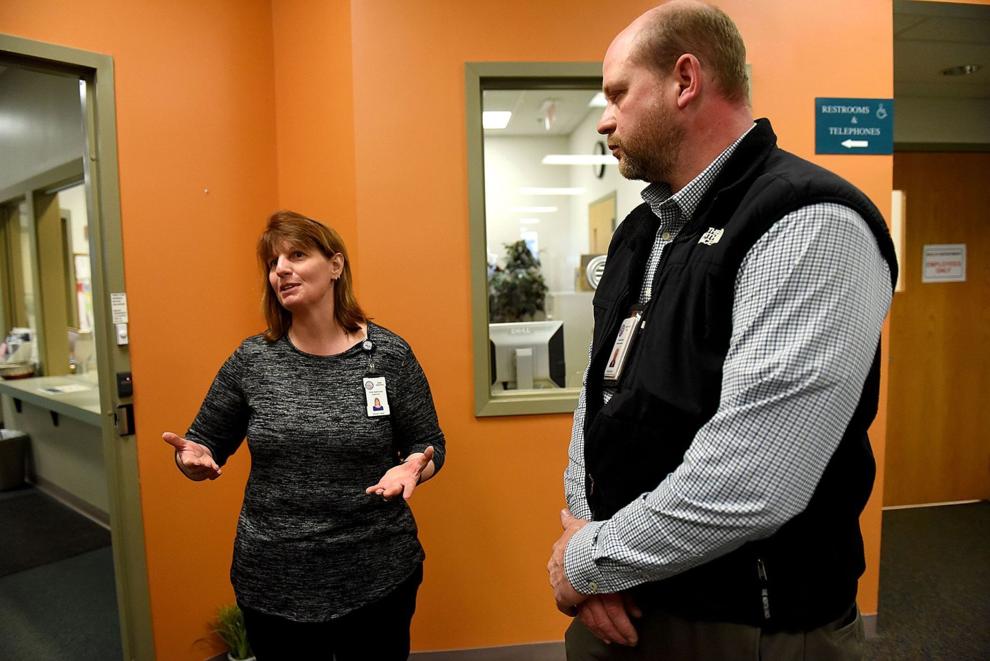 The investigator inquires about contacts of an infected patient. Once they reach those contacts, they deliver the startling news that a person might be infected with a serious disease.
They might ask the person to simply watch for signs of illness. They'll encourage preventive measures, anything from washing hands to self-quarantine to protected sex.
Losier said the outbreak investigators can't name the person who infected their target, but they have to get the target to name his contacts. That might be OK with coronavirus, but imagine doing it for HIV or tuberculosis.
"It's a lot of relationship building," she said.
They have even tracked travelers to African countries when an Ebola epidemic hit Africa in 2014.
In a normal year, the Health Department asks people to quarantine about five times a year, Losier said. Most of those times, the quarantine involves an illness that needs treatment, such as tuberculosis. Then the Health Department can monitor the quarantine while treating the patient.
How will that happen with suspected coronavirus in a patient who is not showing symptoms? Will he be compliant or want to go to a party, like the Dartmouth-Hitchcock Medical Center employee earlier this month?
Will the Health Department become quarantine police?
"This is the new situation we are in," said Losier, who thinks that her workers can eventually persuade a potentially infected person to wait it out for two weeks.
The two say public health is a job that requires them to act on the fly with a maximum amount of flexibility. No day ever ends up as planned; a complaint from a sick restaurant patron can upend an entire day, Krycki said.
"It all depends on what comes over the fax machine in the morning," Losier said.
Both are veterans at the Health Department. Krycki, who said he started school in engineering, has been with the city for 20 years. Losier, who started her career in biotechnology research, has been with the city since 2013.
They say they wash their hands a lot, both on and off the job. Both don't allow shoes from the outside into their house. The Health Department provides a shower if the day involves hazards such as sewage, lead paint or cockroaches.
Krycki offered to shake hands when we met, and he pumped hand-sanitizer onto his hands after the interview and before a parting shake. Losier preferred a safer greeting in this time of pandemic. A simple nod.