The COVID-19 pandemic claimed another casualty this month.
With schools closed and social gatherings limited, Etiquette Day was canceled.
The day was one of the traditional end-of-the-school-year activities at a school steeped in tradition, Central High School.
On Etiquette Day, students of World Literature instructor Selma Naccach-Hoff traded their hip huggers and Red Sox T-shirts for knee-length dresses and blazers. In a fourth-floor classroom in the Classical Building, students hosted a day-long event that included hors d'oeuvres and sparkling soda.
A classical quartet played softly while students held eye contact with adult strangers and made small talk. All done at what today would be deemed a fatal separation of two feet or less.
"It was part of her (Naccach-Hoff's) larger project to send students out into the world equipped with a wide range of skills," said Christine DeLucia, a 2002 Central grad who went on to Harvard and now teaches history at Williams College.
This was not just a one-year hiatus for Etiquette Day. The tradition likely will end, because this was Naccach-Hoff's 45th and final year at Central.
She has approached cult-like status at the school. Central students routinely rank her as one of their best. One year, her students compiled a daily log of her outfits, down to shoes and accessories, to prove a rumor that she never wears the same outfit twice.
She taught two signature classes — Mythology and Advanced Placement World Literature.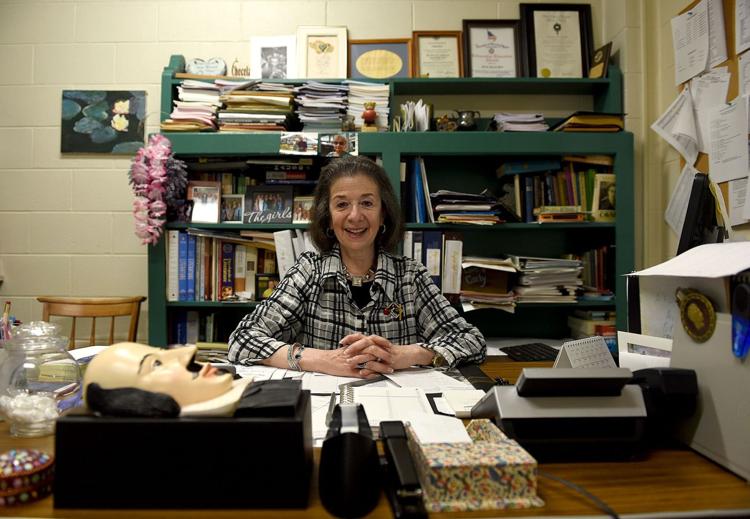 World Literature throws a college course's worth of literary classics at Central seniors. Tennyson's "Idylls of the King," Cervantes' "Don Quixote," Dostoevsky's "Crime and Punishment," Flaubert's "Madame Bovary," along with about 10 others.
Students read and digest the works at home. In class, Naccach-Hoff leads free-wheeling discussions about the material. Then they write essays — 2½ pages every week, 12 to 15 pages at semester's end.
Such academic toil is commanded by a woman who stands 5 feet, 4 inches and weighs 117 pounds.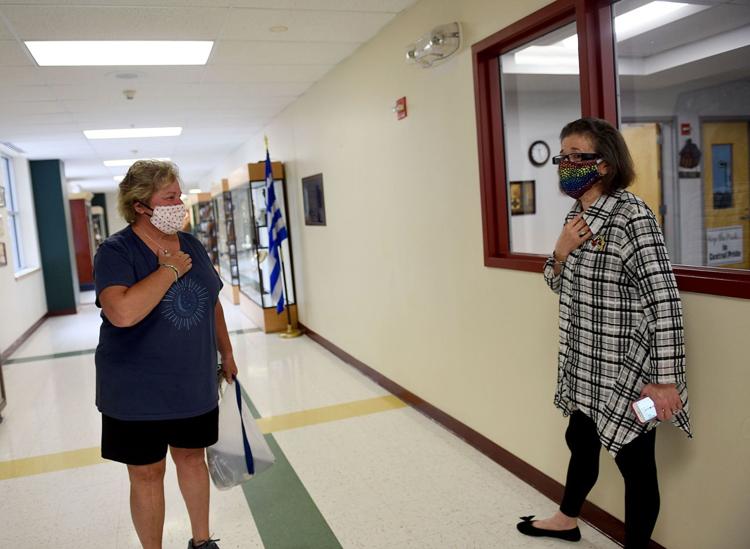 She asks, she demands, she engages them in their work.
"And I enjoyed it myself. I enjoy what I do," Naccach-Hoff said.
"It was extremely rigorous, but at the same time it was a lot of fun. To do well, you had to do all the reading and not rely on Cliff Notes," said David Scannell, a 1984 graduate of Central, former Manchester school board member and English teacher at Milford High School.
Etiquette Day started during a class discussion about a fateful dinner party in Henry James' "Washington Square." A character's duplicity is revealed by his manners, and students wondered: Are we aware of proper decorum and etiquette?
Find out, Naccach-Hoff told them. They did the research, and Etiquette Day was born, an inter-generational download of not just knowledge but culture, confidence and poise.
At Central, Naccach-Hoff became a mother figure to many, said Andriana Skaperdas, a Boston University student who graduated in 2017.
"You wanted to do your work well so you could impress her, and she was slightly intimidating. You were motivated to get your work done," Skaperdas said.
Naccach-Hoff was born and raised in Manchester. Although most associate her with Central, she graduated from Memorial High School.
Her Central responsibilities include English Department chair, adviser to the school's literary magazine the "Oracle," adviser of the Grace Metalious English Honor Society, accreditation committees and Central Alumni Association member.
Along the way, she married Paul Hoff, a scientist whose discoveries opened up laser technology to the fields of business, communications and medicine. They live in Bedford and have funded a scholarship in her name at Central and UNH.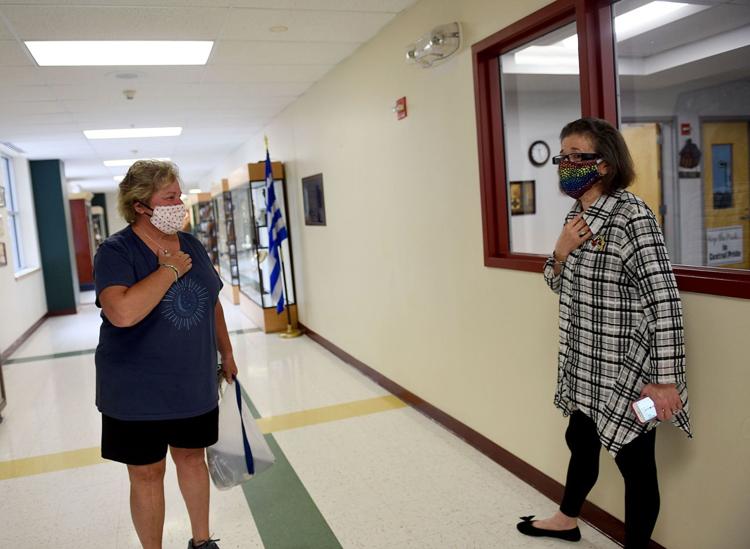 Some things have not changed in her 45 years as teacher. Students still bemoan writing assignments and don't devote enough time to writing well, she said.
But there are painful changes. Students have a lot more needs today. Some lack stable housing and enough to eat. They struggle with physical and mental health problems.
Such problems don't prod Naccach-Hoff to reduce the rigor of her class, but she may stretch a deadline or tweak a timeline to help a student in need, Scannell said.
Scannell credits Naccach-Hoff with allowing alternative communication styles — everything from videos to hip-hop lyrics — for assignments.
"This isn't a story of a relic whose time has passed by," he said.
Yet, Naccach-esque rigor may have passed by. The volunteer organization Manchester Proud has called for elimination of the tiers of academic courses that segregate Manchester students based on their ability or motivation.
Black Lives Matter has said more should be done to open up classes such as World Literature to minorities.
Such talk irks Naccach-Hoff. High school teachers constantly encourage students to take challenging classes. Some enroll but then drop a class after grasping the workload.
"We encourage them, we support them," she said, "but there has to be some willingness to do the work."