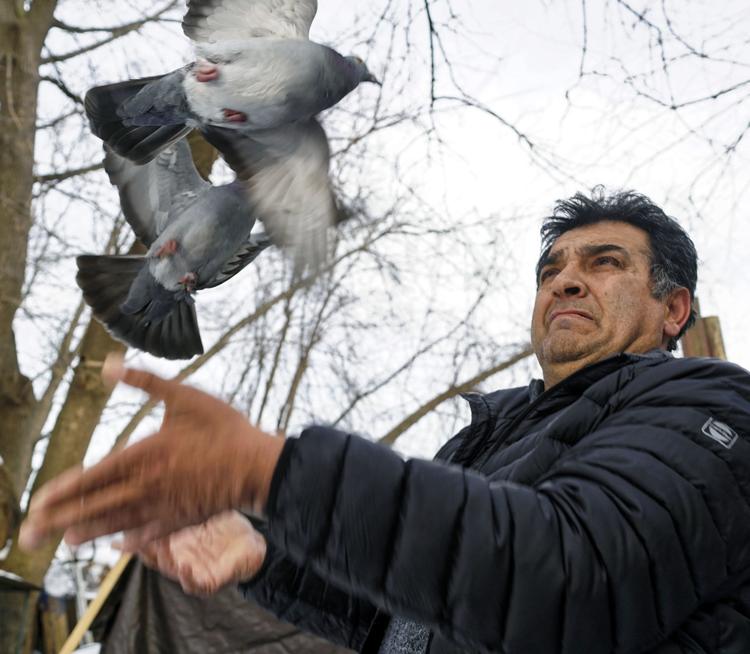 I'm feeling a little guilty as I write this.
On Feb. 5, I was peppering Gjergji Arabaxhi with questions about raising pigeons in the middle of Manchester. To solve my curiosity, he walked into his backyard coop, brought out two 6-month-old birds and flung them skyward.
When they reached about 80 feet, an eagle appeared, its wings back and its glide as focused as that of a stealth fighter.
All three – pursued and pursuer – jetted south and out of sight. Fifteen minutes later, the female circled and returned to Arabaxhi's Second Street backyard.
But when I left about an hour later, the other bird – a beautiful all-white male that had contentedly curled its legs while in Arabaxhi's grasp – remained AWOL.
"A pigeon is a pigeon, he bothers no one," said Arabaxhi, who came to Manchester as a refugee from then-communist Albania in 1992.
But the eagle that plies Arabaxhi's riverside neighborhood is like a ruthless mob boss, and he knows where the pigeons live. Earlier that week, the eagle had taken a couple of pigeons as they sauntered around his yard.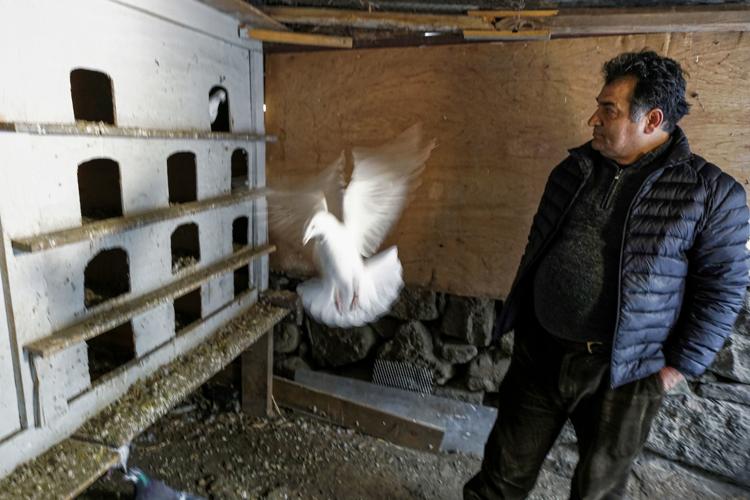 "Eagle, he grab them because eagle wants to eat," Arabaxhi said. The eagle is not the only danger. Last summer, a racoon got into his coop and killed eight pigeons.
Like all who settle in Manchester from far corners of the globe, Arabaxhi arrived with customs and traditions from his homeland. His is pigeons. In Albania, his grandfather, his father and all his male relatives kept pigeons.
He doesn't name his birds, and he disputes any notion that they have individual personalities. They are either good at speed or pecking around the yard.
There's a good reason for Arabaxhi to maintain the family tradition. Pigeons played a role in his flight from communism.
In the late 1980s, he was doing OK in Albania. His father was a communist, Arabaxhi had put in a half-dozen years as a coal miner, and the government rewarded him with a house for himself, his wife, two young children and four pigeons. (Well, it's unclear if the government knew about the pigeons.)
When he moved to the house, another man was living there and wouldn't leave. A dispute started. Eventually, police got involved and they discovered seed that Arabaxhi had stored away for his pigeons.
Arabaxhi had stolen the seed from the people, the government said, and he was sentenced to three years in prison. Given five days to put his affairs in order, Arabaxhi and a friend stole out of the country, squeezing underneath a fence that separated Albania from Greece.
He ended up in a city west of Athens, Aspropyrgos, and within a year city fathers took a bus to Albania, ostensibly for sightseeing. They picked up Arabaxhi's wife and children, and the family reunited.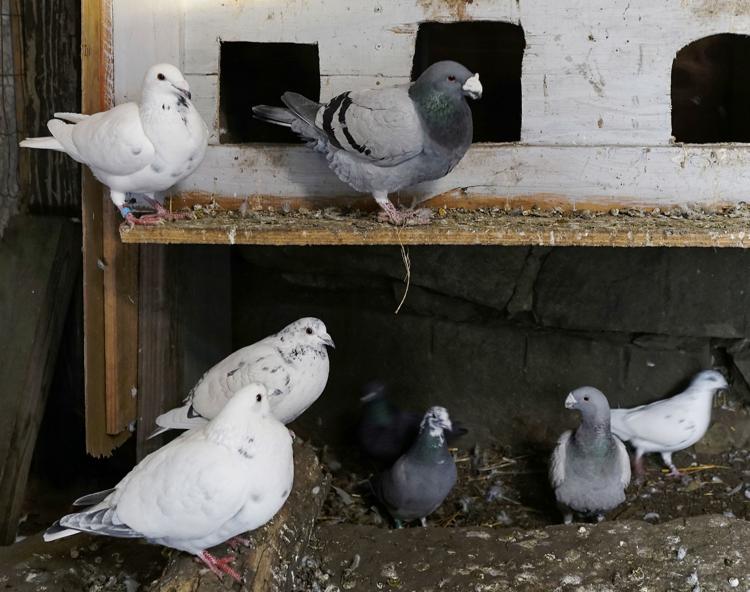 As a refugee, Arabaxhi got a choice of several countries to settle in, and he chose America.
"If I no left, I'm dead over there," Arabaxhi said.
He is 56 and has rich, dark skin and wavy black hair that is graying on the sides. He speaks enthusiastically, his voice rising as he talks about pigeons and his escape from Albania.
"I've changed," he said about his life. "I was poor, and I am good now."
The toolshed-sized coop is hidden away in the back corner of his small city lot. It backs up against a 3-foot- high fieldstone retaining wall. The south side is against a fence that separates his property from a lot adjacent to the Hands Across the Merrimack Bridge.
He said he's not the only one to keep pigeons in the area. One's in Bedford, another one in Hooksett, and there's a club of pigeon owners in Nashua, he said. Many keep hundreds of birds, he said. Arabaxhi limits his flock to about 50. He had 14 when I visited – when I arrived, at any rate.
Arabaxhi has a lot of time for his pigeons. In 2003, he was struck by a car on his bicycle. Injuries from the accident prevent him from working, and he's now on disability.
We decide to search for his lost bird and walked to the Hands Across the Merrimack. One of his birds – not the white one – is hanging with a flock perched on a power line. He waves his hands, the flock circles and his bird starts to fly toward home, but changes course and returns to the flock.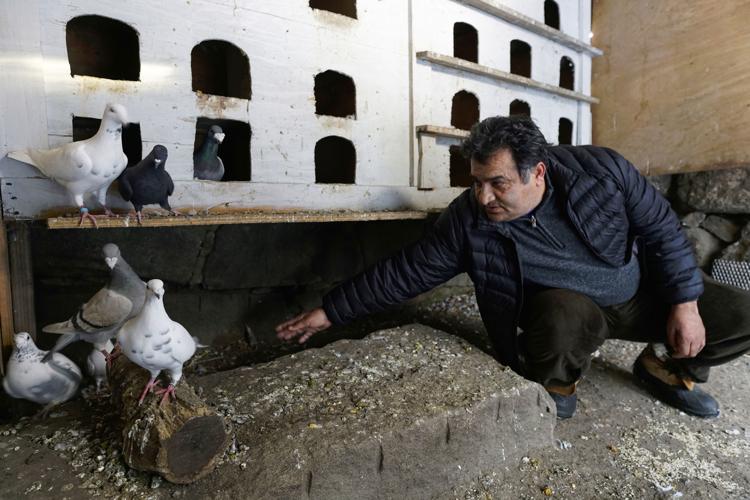 He's pretty sure he sees the white pigeon across the river, perched atop a roof at the Northeast Delta Dental baseball stadium. A couple of minutes later, it is gone.
"I love my pigeons like my grandkids. You can't touch my pigeons," he said.
Birds usually make it back within three hours. The white bird had not returned by the late afternoon, and my worries grew when he showed me one last thing – the carcasses of the two birds killed in the earlier eagle attack.
But on Friday morning, three days after Arabaxhi released the two birds, the prodigal returned.
"I don't know where he go. I looked everywhere where there are a lot of pigeons," he said via telephone. "He's home; he's staying in his cage."