There's a Mona Lisa hidden away in the northwest corner of Manchester – not a masterpiece painting, but an ecological gem.
It's swampland that hosts towering Atlantic white cedar trees, a four-century-old black gum tree and wild rhododendrons.
The collection of those three plant species this far north is a global rarity, according to The Nature Conservancy in New Hampshire, owner of the 660-acre tract.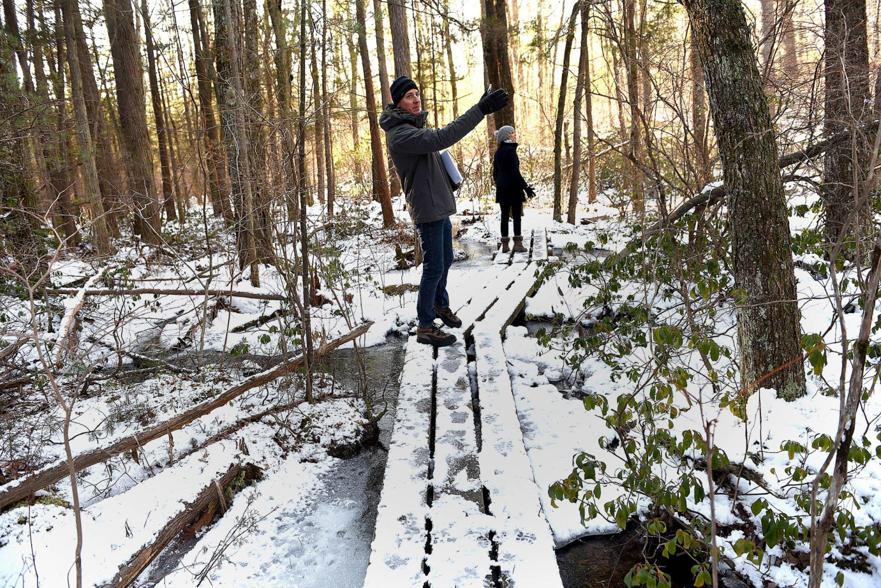 For one thing, the preserve is located in a city where most people think getting in touch with nature means playing golf or parking on the shore of Lake Massabesic on a warm evening.
It also is located off a road, Countryside Boulevard, nearly as obscure as the preserve itself. And the Cedar Swamp Preserve doesn't make it onto a lot of tourist maps or lists of fun things to do in the Queen City.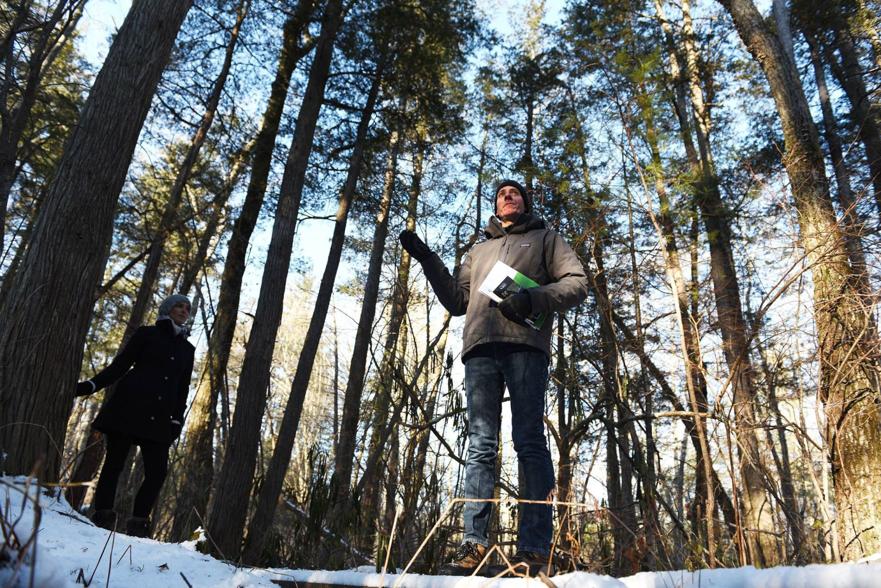 So it stays hidden, like Mona Lisa in a closet.
That might change this year. The Nature Conservancy wants the world, or at least Manchester, to start enjoying the preserve. To accomplish that, the Conservancy has launched an effort to expand the five-car parking lot and build a half-mile trail to the swamp. The trail won't resemble a boulder-strewn White Mountain hiking trail. Rather, it will be a flat, hard-packed surface that could accommodate disabled visitors. The organization hopes to have the trail completed by fall.
It's a subtle shift for an international organization better known for preserving valuable conservation land than for making it easy for city folk to explore.
"We protect these places for their natural value, and we have an obligation to connect more of our population to nature," said Jim O'Brien, The Nature Conservancy's director of external affairs.
O'Brien and publicist Dia Kalakonas took Union Leader photographer David Lane and me into the preserve on a single-digit-degree morning.
The existing pathway leads up and down gentle slopes through a hardwood forest where denuded, flagpole-sized trees form a loose screen along the rolling hillside.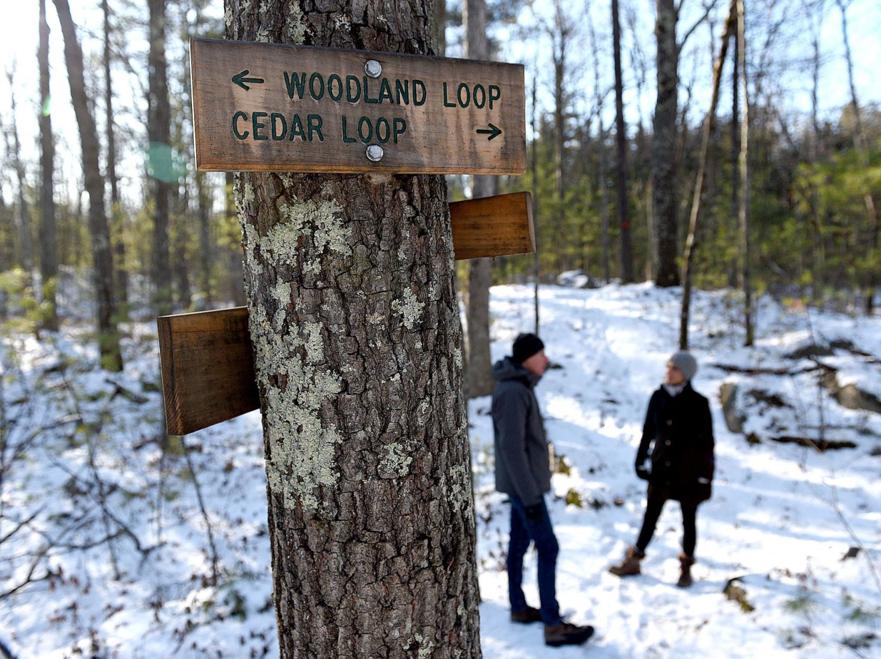 Our steps on the frozen snow crunch loudly enough that we must raise our voices to speak.
As on any walk in a New England forest, we keep a close eye on the ground, watching for bumps and rocks.
O'Brien explains that disabled and elderly people cannot negotiate such a landscape. Many city dwellers are agile enough but feel they lack the outdoors gear for a trek.
The trail that's being planned would feature a grade gentle enough for a wheelchair or a pair of flat-soled sneakers.
Once we reach the swamp, the trail turns into a boardwalk of split logs. They keep us above a stew of decaying leaves and coffee-colored water topped by a delicate sheen of ice. Mocha-barked cedars grow out of mounds in the swamp, their sweet-smelling greenery far above the forest floor.
O'Brien said the Conservancy will replace the log path with a wider, traditional boardwalk.
The effort will cost about $400,000, which The Nature Conservancy plans to start raising. The organization, known for its non-confrontational approach to conservation, hopes to cover some of the costs through state grants, foundation money, and business and individual donations.
A 2018 endeavor to create a walkway through the conservancy's Ossipee Pine Barrens in Carroll County earned recognition from the Governor's Commission on Disability.
Bill Foss, who lives at the nearby Birch Hill Terrace retirement home, has found a second life in the preserve, which he visits daily. He picks up litter, makes sure there are maps at the trail head, and spies beavers, otters, great blue herons and other wildlife.
His Bushnell camera captured a black bear standing on ice in a cedar swamp in December, apparently searching for a prehibernation meal.
"My mission each day is to let the local folks know what's going on out there," he said.
But many of Birch Hill's residents have limited mobility. So far, they can only listen to Foss' tales and yearn to one day experience the preserve themselves.
"We hope to live long enough to go hug that 450-year-old tree," he said.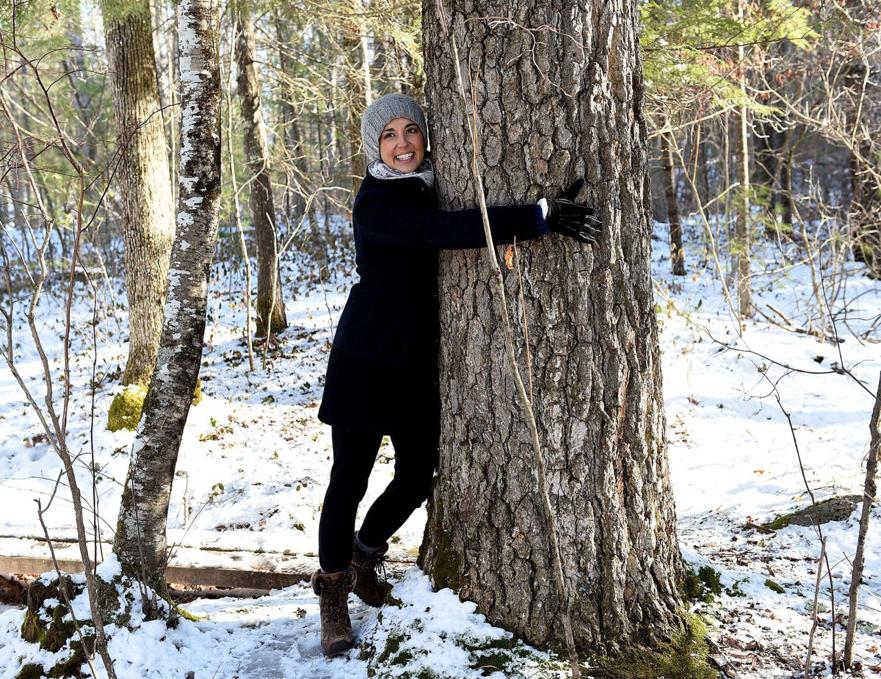 Of course, bringing people into an ecologically delicate area carries risks.
They would bring their dogs, even though The Nature Conservancy prohibits dogs. There would be more campfires (O'Brien said he's seen a few remains). And of course, teenage drinking and empty beer cans.
But that's what happens on any large tract in New Hampshire, he said.
What's important is that people get to look at, walk in, smell and touch nature. Kind of like finger-painting, as opposed to visiting an art gallery.
"There's a realization," O'Brien said, "that we can't shut off nature from people."