Frank Hoskins shovels snow. Not the snow that falls on my measly 40 feet of driveway.
He puts shovel to more than a mile of the Piscataquog Trail. Every time it snows, whether a half-inch or two feet, Hoskins will be at the paved trail once the skies clear.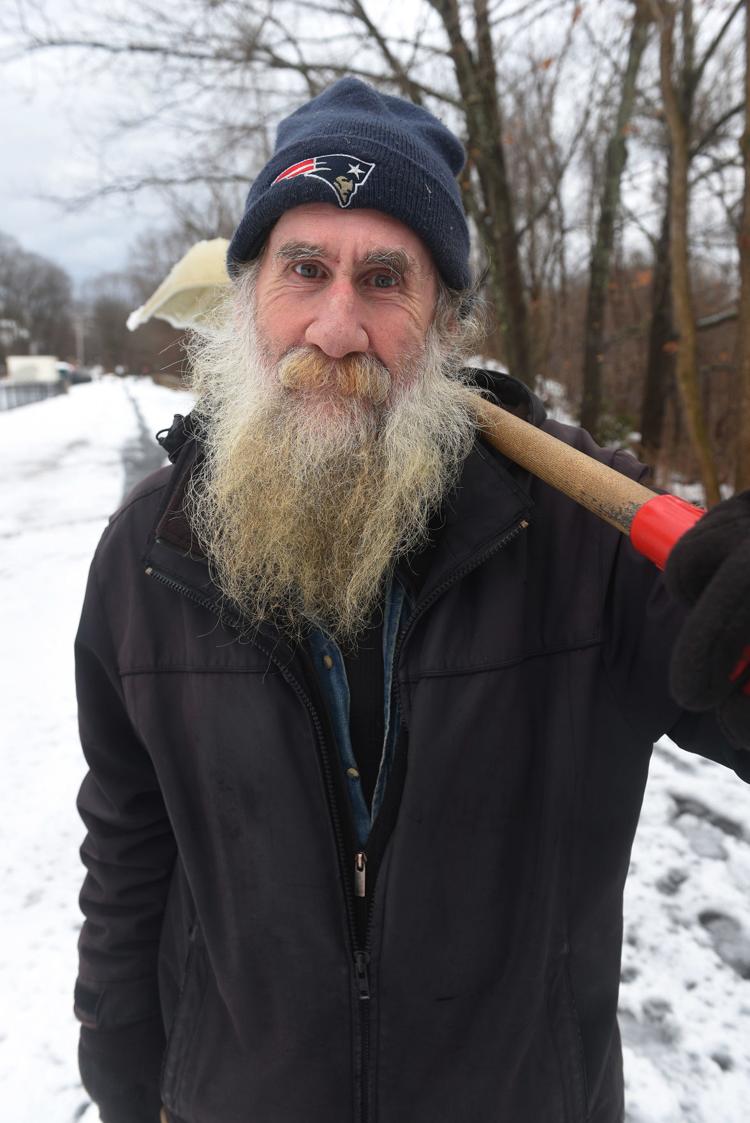 He burns hundreds of calories and at least a couple of hours to clear a pathway that channels winter walkers through the heart of the West Side.
"There's about a thousand reasons I do this," said Hoskins, who is 63. It facilitates activity and travel for his fellow West Siders. It honors his parents, whose inheritance allows him to get by without working. It keeps active a body that has been worn down by years in the house construction trade.
Money isn't one of the thousand reasons. He does it for free.
"What Frank does for us on a year-round basis is beyond expectation," said Tom Mattson, operations director for city parks. Hoskins trims weeds in the summer and rakes in the off season.
And he lets officials know about everything from vandalism damage to overflowing trash cans. No other trails in the city have such an advocate, Mattson said.
On a recent morning, Hoskins started clearing two inches of heavy snow.
"I got sick of walking up Notre Dame (Avenue). Same puddles, same black ice and there's nothing much you can do about it. Out here, I can control things," he said.
Other than his hybrid leather-rubber boots, Hoskins favors low-end winter wear, inner layers of long underwear and shirts topped by a lightweight coat, camo cargo pants and work gloves. His lengthy, wiry beard draws one's focus as he speaks.
Weather and snow are a couple of his favorite topics. And after seven years, Hoskins has earned his degree in snow clearing.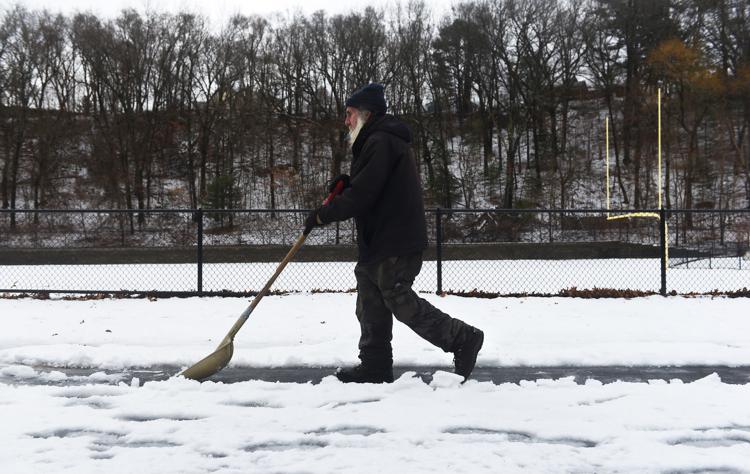 He clears a path that is two shovel blades wide, about two feet, on the edge of the paved trail.
He cuts the path on whatever side of the 10-foot-wide trail is uphill. Every hundred feet or so he cuts vertical paths to channel snow melt off the walking path.
He added a third pass recently – an ice scraper that peeled a ribbon of hard-packed slush from the blacktop. Heat will warm the bare blacktop and melt the hard-packed slush around it, he said.
"Every snow's a little bit different. You have to learn how to adapt," he said.
The more he shovels and the longer the path stretches, it seems to grow from his backside, a black tail resting on a bed of snow and ice.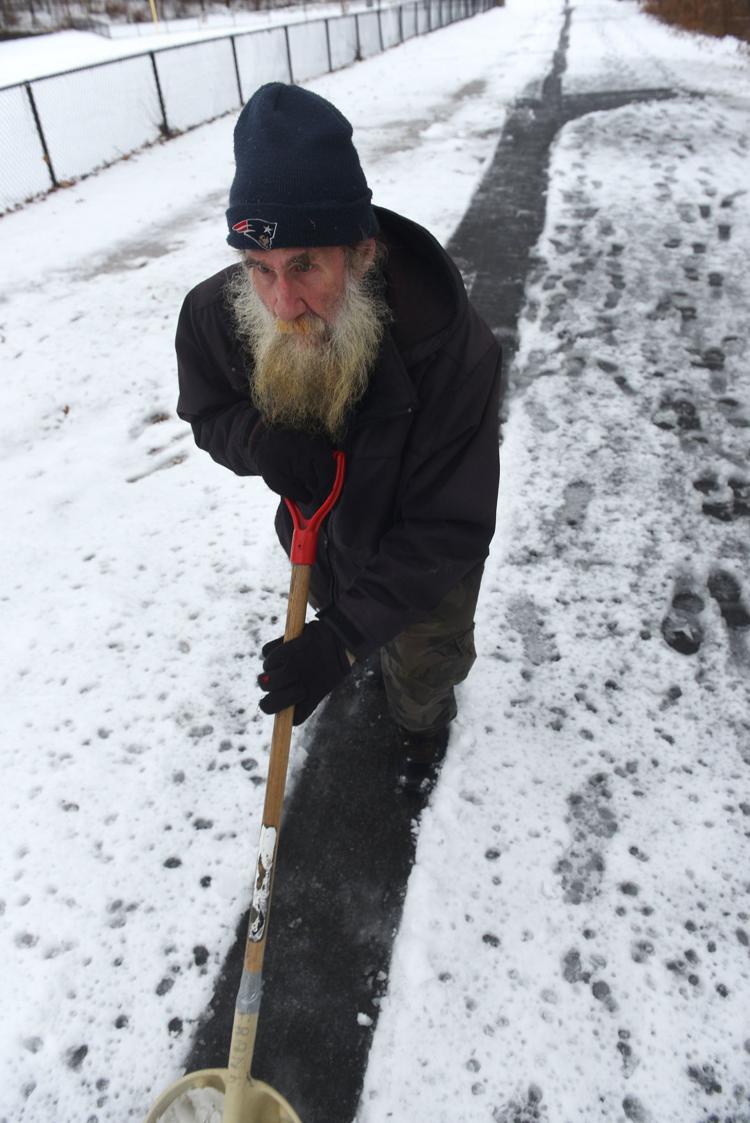 "He keeps to himself," said Alderman Bill Barry, whose Ward 10 includes a portion of the walkway. "He's not looking for praise. He's doing it because he's got a lot of pride in the area."
His presence encourages users to keep the trail clean, Barry said.
"Frank's a good man. He keeps this shoveled every day. I admire him," said Michael Veilleux, who is homeless and said he lives in a tent in a low-lying, wooded area off Douglas Street.
He said Hoskins is obsessed about the trail.
Not a bad obsession to have. The trail opened in 2009. At the time, Hoskins – who remains a two-pack a day smoker – was recovering from work-related injuries. He walked city trails a lot, and he credits them with helping to restore his health.
He picked up the shovel in January 2012, when the city stopped plowing the trail. Mattson said he's offered Hoskins a snowblower, but he prefers the shovel.
A couple of shovels, in fact. Hoskins prefers plastic over metal. He adds his own handle to most shovel heads. On Wednesday, he was using a grain shovel. Other times, he uses a flatter, traditional shovel head. The head of his ice shovel is shaped into teeth and fangs, providing more surface area to loosen stubborn ice.
Lately, Hoskins has been donning a headlamp and shoveling at night, when he can enjoy the stillness of the winter night, he said.
Despite his good work, Hoskins may not be able to continue. He has lived in a $650-a-month Douglas Street apartment for decades, but his landlord wants him out by spring in order to remodel and upgrade, Hoskins said.
There's a vacant apartment building at 534 Douglas Street; its front door is only a few feet from the trail. Hoskins said it would be an ideal place for him. Were he that close to the trail he could use a snowblower. But the landlord, Ben Gamache, has been slow to rent it out. So Hoskins can only do what he does best, shovel.
If the path helps an older person remain healthy or calms down a disturbed person, then Hoskins is satisfied, he said.
"In the words of Obama," Hoskins said, "if I've saved one life, then it's worth it."