Kitchen tables and chairs have become classroom desks.
Computer screens are blackboards.
And moms have yet another job title — teacher's aide.
Very briefly, that's the situation as Manchester schools start their fifth week of remote education.
They will have another seven to go. Last Thursday, Gov. Chris Sununu declared that schools — at least school buildings — will be closed for the remainder of the year.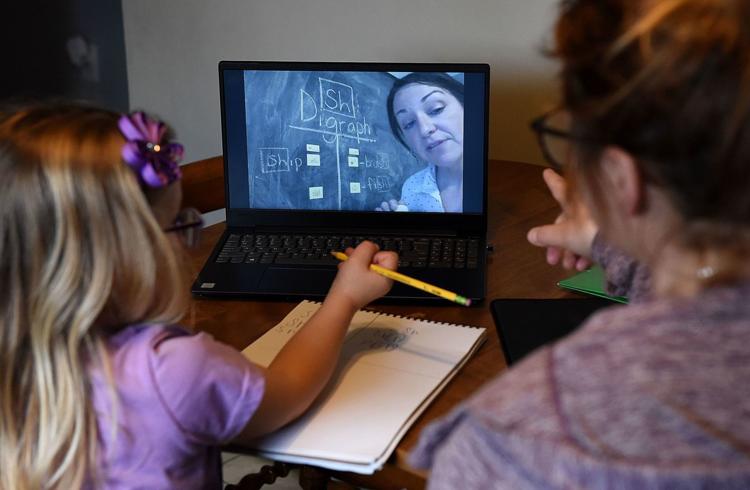 No matter, Sarah Babcock, a kindergarten teacher at Parker-Varney School, will continue on.
She is one of nearly 1,100 Manchester teachers who have had to reboot a centuries-old education system in a matter of weeks. They did so after a couple of time-consuming, hastily arranged seminars their bosses organized in early March, that period of pending doom when the rest of us fixated on our toilet paper supplies and recalibrated our 401(k)s.
Babcock is not tech-savvy. With two young children of her own, the 39-year-old is the kind of mom who thinks kids need limits on screen time. And she's the kind of teacher who believes the social aspects of school are as important as learning letters and numbers.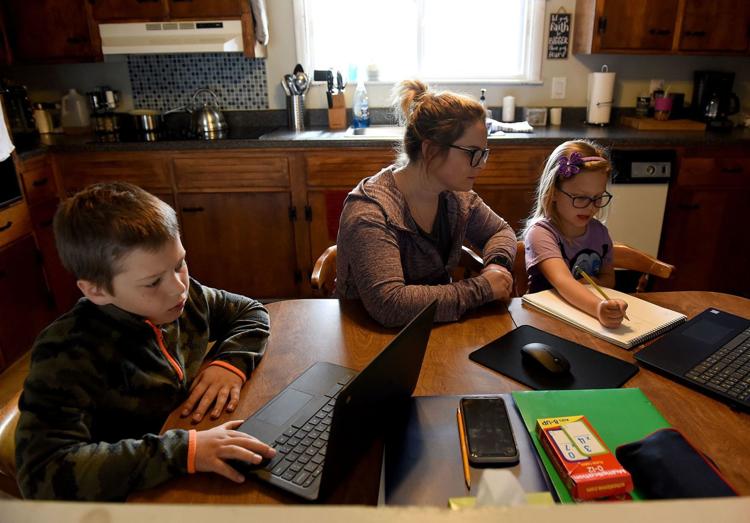 But she has put that all aside in order to keep teaching. She has produced almost 50 videos, each which starts with her cheerful "hello learners" introduction.
"Everybody's full of worries now. I really wanted to make sure this wasn't another stress," said Babcock, whom the Manchester School District put me in touch with.
She aims for three videos each day. She films them in a makeshift classroom in her New Boston home.
They involve a short lesson on topics such as phonics, science or math. Twelve minutes is a long one; many are shorter.
Her own children — 6 and 4 — appear in some of the videos. Sometimes they help; sometimes they peek into view; all times they serve as role models.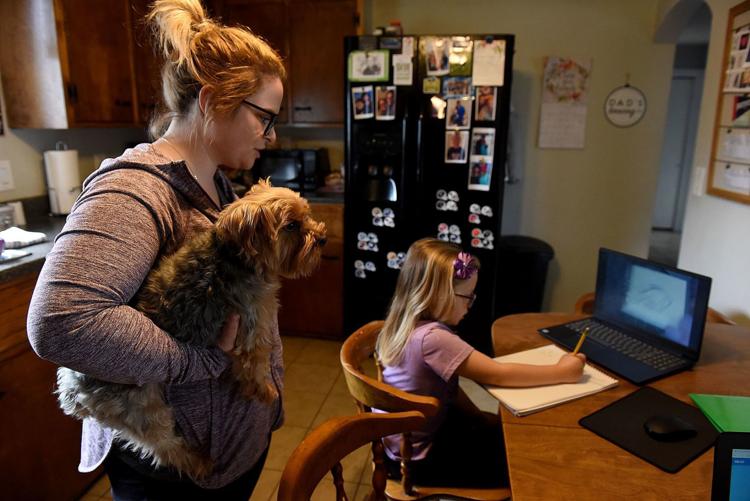 Babcock also produces videos reading a bedtime story.
And she holds Google Zoom-like video meetings with small groups of students to discuss a story book. (They're expected to read it ahead of time.)
In the meantime, parents email her the classwork assignments. And she encourages their feedback.
"She's exceptional," said Kelly Espinola, the principal at Parker-Varney. "Instead of looking at everything she can't do, she thought, 'What can I do?'"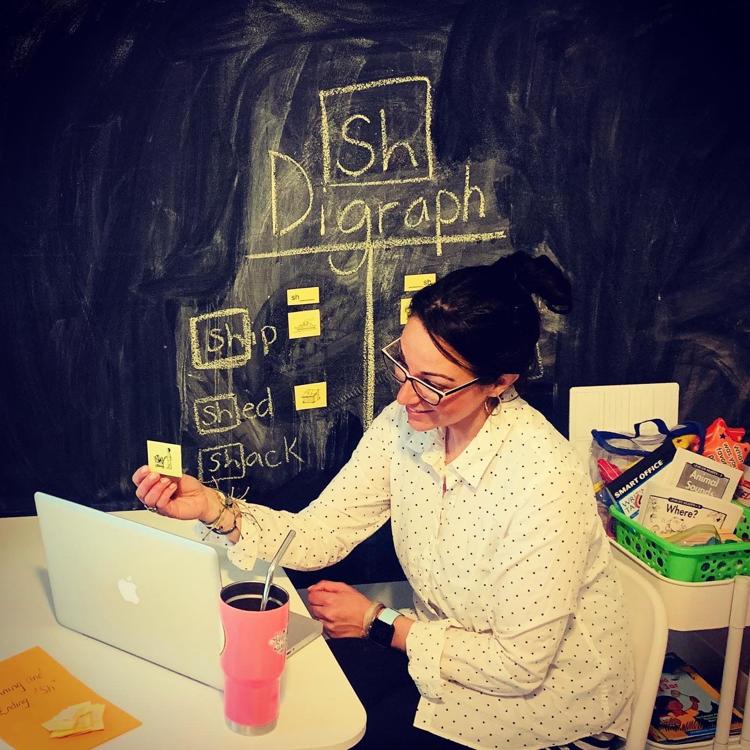 Lizzy Voisine is the mother of one of Babcock's students.
"She's always there when I need her," Voisine said about Babcock.
Still, the online learning requires help from parents. Voisine has to participate in each of her daughter's lessons, pausing the video and helping her daughter with whatever project Babcock assigns.
"I'm being her teacher," Voisine said.
Remote learning has other challenges.
Teachers quickly learned that it's impossible to get all their students together for a real-time video lesson. Most families have a limited number of computers, and there is no guarantee a student can log onto a class at an assigned time.
"Everybody's sort of getting their feet wet," said Gregory Giorgio, a social studies teacher at McLaughlin Middle School. He embeds his voice with Power-point style lectures, which he livens up with photographs and video clips.
On the plus side, some students are thriving. A couple of his students with social anxiety, for example, are going from near failing to A-level work, he said.
But English Language Learners struggle with the written word. He spends more time with them on Google Hangouts, which allows for video conferencing. Overall, 75 percent of the kids are doing the same remotely as they would in their school building.
"For the outliers, I think the students are running into the same stressors we are," he said.
The school district has made an effort to reach everyone. Schools are open for one reason — so principals can sign out Chromebook laptops to any student who needs them. And Comcast will install hot spots so a student can get free internet access.
At Memorial High School, social studies teacher Bob Fuller relied on the give and take of a Socratic discussion for many of his classes. That is the biggest loss for him.
He recently hosted a Google Zoom discussion group for a 26-student class; two students logged on. He said federal law prohibits him from videotaping the discussion and then posting it for the other 24.
Overall, Babcock thinks her students are learning a lot.
They're learning about how dedicated their caretakers are. They're learning about the kindness of strangers during a crisis. About adaptation and adjustment. About resilience, resourcefulness and bravery.
"I am super proud of all my students," she wrote in an email. "They continue to shine and grow and find positivity."
That's not to say that everyone is happy.
Voisine said her children started bawling when Sununu announced that schools will stay closed for the remainder of the year. This was the only year that her kindergartner and 4th-grader will attend school together. It was a bonding experience for them. Not the same as sitting around the kitchen table together.
"My (4th grade) son isn't going back to Parker Varney," Voisine said. "He never got to say good-bye to his teachers or have his step-up day," she said.