Earlier this decade, Cindy Boucher's death was possible. Very possible.
Athletic and pretty, she was nonetheless struggling with a genetic disease that caused her liver to inflate to more than 10 times its normal size.
Strangers asked if she was having triplets.
The growth was choking off other organs, complicating essential functions of breathing and food digestion.
And her doctor warned she was approaching a physiological cliff that would make it difficult to survive.
But she did. March 21 marked the fifth anniversary of the transplant that transformed her from critical patient to survivor.
And at this time of the year, when the notion of renewed life is everywhere – from the crocuses and tulips in my flower bed to the Easter church service I attended – Boucher can appreciate life more than most.
"People die waiting for organs. You understand this," said Boucher, who is 53, in the dining room of her North End home. "Being a recipient, you can't give back enough. How do you tell someone you never met that they gave you this most amazing gift?"
Boucher suffers from polycystic kidney disease. According to literature from the PKD Foundation, it is the world's most prevalent, life-threatening genetic disease. Some 600,000 Americans have it, far more than the better-known genetic diseases of muscular dystrophy, cystic fibrosis, sickle cell anemia and Down's syndrome.
As the name implies, the disease causes multiple cysts to form on internal organs, most often the kidneys. It had infected Boucher's liver.
And her liver – the only organ in the body that regenerates itself – was doing what it was designed to do. A cyst formed and damaged a part of her liver, and the liver grew some more liver. Another cyst, more liver. On and on.
She started to feel the cysts in 2011, about a year after her second marriage to Brian Boucher. They were on the New England transplant list for three years. Then, in 2013, her doctor warned of the metaphorical cliff and recommended she move to Florida.
Chances are better there for transplant recipients. At least they were five years ago.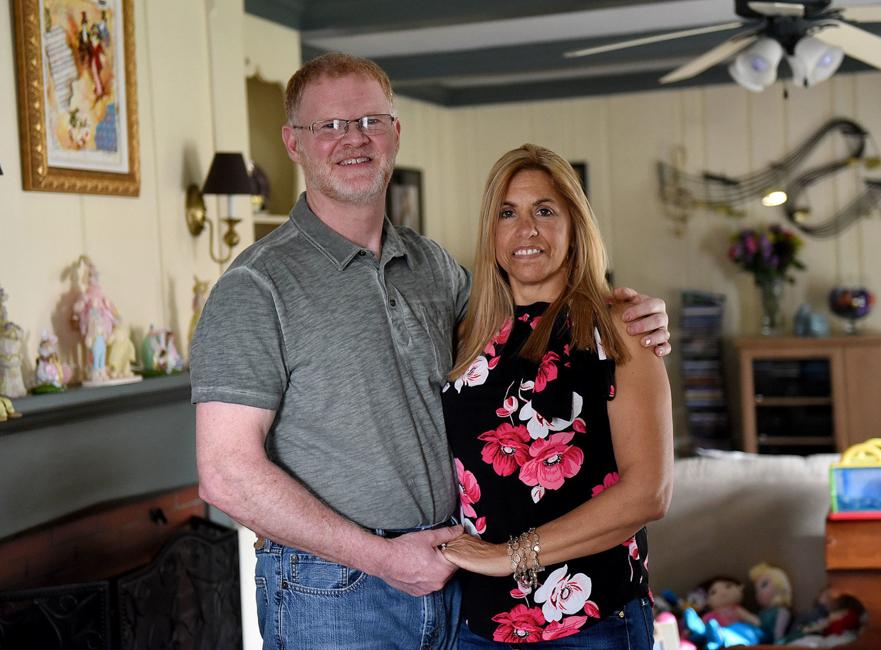 Sean Fitzpatrick, a spokesman for New England Donor Services, said people in the Southeast are more likely to die in circumstances ripe for organ donation – homicide, motor vehicle accidents, stroke and heart attack at an early age.
We New Englanders, on the other hand, have lower mortality rates and live to be so old that our organs get pretty worn out. Even crowded highways work to the disadvantage of organ recipients; one is less likely to die of an accident on a gridlocked highway going into Boston.
"These things are great for a population as a whole, but they conspire against those people waiting for an organ transplant," Fitzpatrick said.
So off the Bouchers went to death-friendly Florida. Brian, a partner in the family-owned Granite State Tire and Auto, got the go-ahead from his brothers.
Cindy worked, holding down her inside corporate sales job by working with laptop and mobile phone. They ended up in the Fort Myers condo of a friend, about a three-hour drive from Tampa General Hospital.
When a transplant opportunity presents itself, the hospital calls in at least two recipients: The primary recipient and then a backup in case the transplant wouldn't work for the primary recipient.
Six times they rushed to the hospital on backup status and returned to Fort Myers once surgeons went with the primary recipient.
"The first time, it's indescribable, the amount of stress," Brian said. "The third time, you understand the process. The sixth time, you worry."
The seventh time, you get lucky. This time, the hospital called back – something they had never done – to make sure they were on their way.
Although Cindy was still the backup, doctors said her chances were good. The donor was small, likely a child, and the primary recipient was a large man. Hours later, she had a new liver. Surgeons removed her 43-pound liver; a normal liver is about three pounds.
Had they needed the transplant today, the Bouchers would likely have avoided Florida, Fitzpatrick said. The availability of donor organs in New England has increased because of fatal drug overdoses from the region's opioid epidemic. Hearts, lungs, livers, kidneys, all can be safely transplanted in many cases, despite the drug use, he said.
And New England is leading the country in the transplant of livers with Hepatitis C, which doctors treat post-transplant, Fitzpatrick said.
So out of tragic death comes new life.
At the start of this, Cindy talked about giving back.
For several years, she and her husband have operated a support group for people with PKD. It draws participants from Maine and Massachusetts.
They meet monthly at the city library. They comfort those in transplant limbo. They swap tales of living with a suppressed immune system.
They raise money for PKD research by participating in a 3-mile walk in Boston every year. And they see the lives of once sick and anxious people return to normal.
"The best thing that happens," Brian said, "is when people don't come anymore."