Jim Townsend knows a lot about art.
He can repeat when a lot of artists lived and died.
He can explain when and how his second home — the Currier Museum of Art — acquired a valuable painting or sculpture.
And he can pontificate on the arc of artistic style as it stretches from realism to impressionism to abstraction.
Not that he wants you to know all that.
Rather, Townsend — a retired lawyer who spends a lot of his free time shepherding school children through the Currier Museum — believes that an appreciation for art needs to start somewhere below the neck.
So he avoids the north-of-the-neck stuff such as dates and historical context that can make a walk through a museum seem as enticing as the final half hour of an endless history class.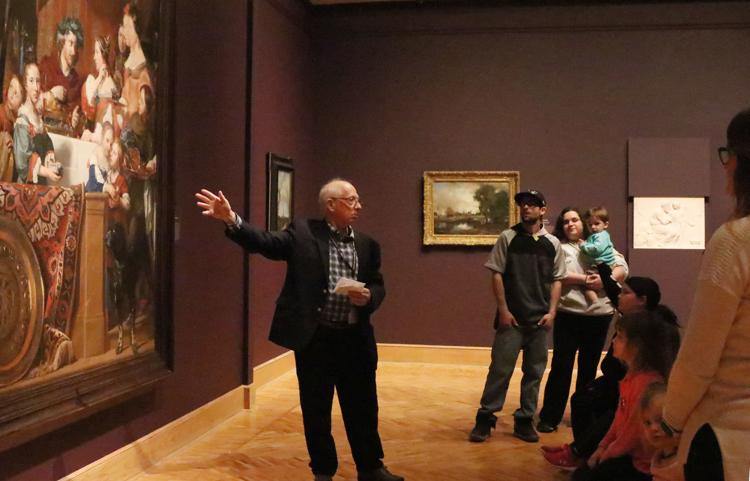 "We don't want to fill them with useless information. We want them to go to any museum and interact with the works," said Townsend, who is in his 14th year as a Currier volunteer docent.
With winter break now over, schools in New Hampshire and northern Massachusetts will be dropping off busloads of school children to the Currier. (Kids in Manchester, Nashua and Concord go free, thanks to a grant from Lincoln Financial.)
It won't be unusual for Townsend and the more enthusiastic docents to be guiding four or five hour-long tours a week.
Earlier this week, he led a half-hour tour focusing on families, pets and toys.
"What's going on here?" he asks the seven or so kids who are sitting beneath the 8-foot tall oil painting, "The Banquet of Antony and Cleopatra."
Parents scrolled through their mobile feeds or tried to calm squirming infants while Townsend kept the grade- school children talking.
What are they eating? Why is Cleopatra's hand on her pearl earring? Who's a servant and who's a member of the royal family? What's going to happen when the water from that overturned water pitcher hits the dog's backside?
"He definitely got through to the kids, brought it down to their level," said Manchester resident Jeff Masella, who was participating with his wife and two children. Masella noted that his daughter, Madison, remembered Townsend's takeaway message: Look at the eyes and hands of the subjects; then you'll understand the painting.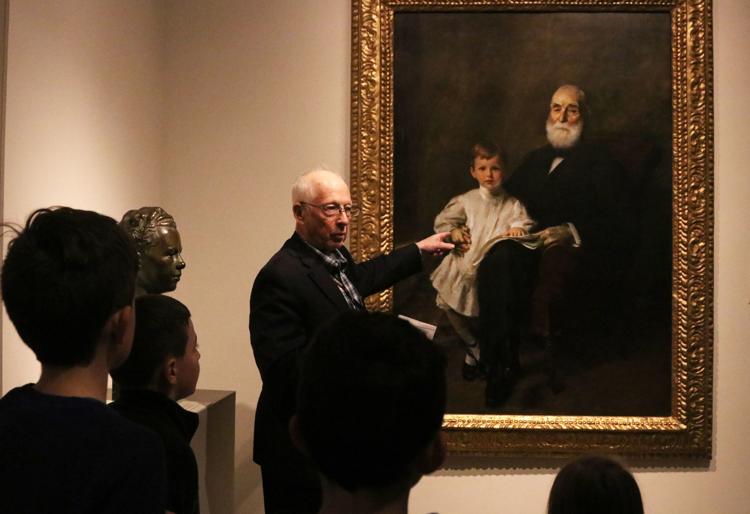 Townsend is one of about 80 docents at the Currier, which celebrated its 100th anniversary two weeks ago. (The Legislature chartered the Currier in February 1919; it took another 10 years to build the museum.)
About half the docents, like Townsend, knew little about art when they started. To Currier management, it's more important that they can engage an audience.
"There's nothing worse than someone who says 'I have a master's degree in art history and I know everything already,'" said Alan Chong, director of the Currier. The volunteers go through extensive training, including field trips to other museums and lectures at the Currier.
"At the end of the day, we want interactions. We want visitors to come up with their own ideas, not listen to a tour," Chong said.
Townsend, who is 73, speaks in a steady, soft tone that forces one to concentrate on the words he's speaking. A good lawyer, he said, is a better listener than speaker.
He can be impish at times, taking out a dollar bill to compare the portrait of George Washington to a Currier portrait painted by the same artist, Gilbert Stuart.
He's proud of the response he elicited when he asked children to consider Remington's "The Bronco Buster" from the horse's point of view: oppression.
Townsend said he's never been bored in an art museum. He grew up in Meriden. His minister took him to the Currier when he was about 12. The next trip he remembers was an all-day jaunt to New York museums by the instructor he had at the one art course he took as a Yale undergraduate.
He went on to earn a law degree. As an assistant attorney general, he was the lead defense counsel in the Claremont I case of the 1990s, which restructured education funding in the state. He went on to be a sole practitioner in Londonderry, and now sits part time on a state board that considers unemployment compensation appeals.
He said he volunteers because he loves it. He added that the key to a successful retirement is a task that keeps one both busy and engaged.
Recently, the Currier gave him a buzzer set on a one-hour timer. They had to.
"Some of us got so into it," he said, "we didn't want to stop."