Corrina Marcoux rolled up her sleeves to show me inner arms peppered with four or so rust-colored bruises.
It was one night last week in the early evening. She sat in Victory Park atop a blanket and unraised tent, where she would sleep that night.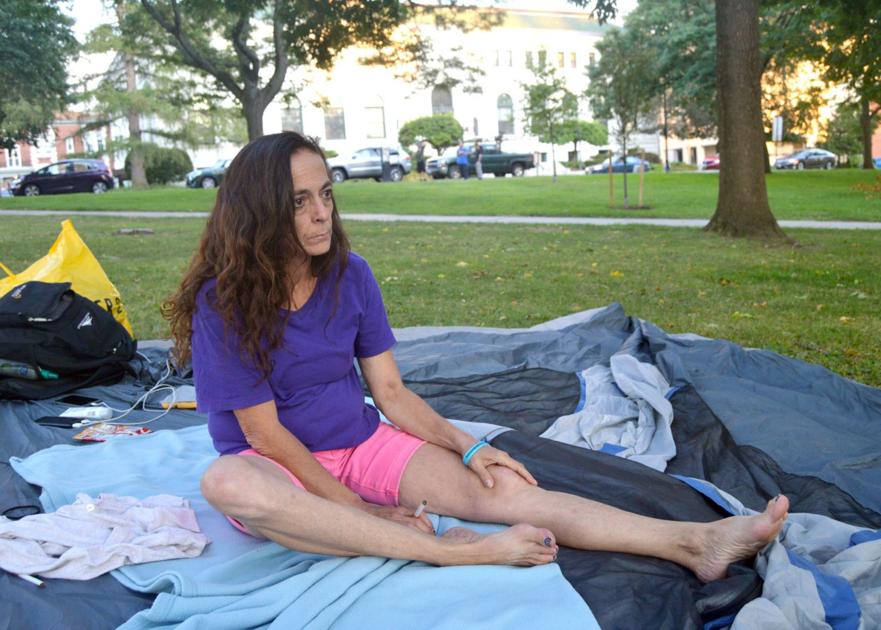 She had been clean for a year and a half until the previous week.
"Look at this. This is what I did in two days," Marcoux said in an anguished, quivering voice.
A few minutes earlier, the 51-year-old showed me a lesion on her breast that she said would have to be removed.
Less than a mile away, John Higgins and a friend conversed as darkness fell on the grassy strip of land between the railroad tracks and Canal Street.
Higgins is skinny and has a high-strung, fidgety demeanor that made me guess that any sleep would be hours away.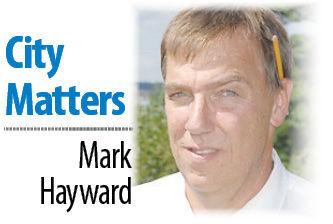 He's been homeless for a year, he said. He recently started a $12-an-hour job at a scrapyard, and wants to get off the street. But that will take time.
"People have been failing so much their whole life, they don't even want to try," he said.
These are two of the homeless people who live in Manchester. They have city leaders up in arms.
As their numbers increase – the shelter was packed with 163 residents during a rainy night early this month – aldermen have fumed about their presence in the city. One alderman, Joe Kelly Levasseur, photographs them and puts unflattering photos on social media.
A few suspected I was Levasseur and demanded to know if I planned to post a photo.
People running for mayor are also talking about the homeless.
Incumbent Mayor Joyce Craig has moved from a gentle approach (bathrooms in the park, a campaign to discourage panhandler donations) to a ban of tents in city parks and a vaguely defined proposal to prohibit trespassing in public spaces "under certain circumstances."
Victoria Sullivan, who is running against Craig, has a plan – make the problem a chief priority and "find real solutions to homelessness and the effects of it," according to her website.
Glenn Ouellette, who runs for mayor every two years, has penned a 14-page manifesto that explains that homeless people can't get jobs for all sorts of reasons, including a lack of transportation, drug addiction, and mental and physical health problems. And many have jobs but can't afford rent.
One of those people is Marc, who was pitching his tent next to Marcoux. He makes $15.75 as a temp working at a local distillery. He hopes to parlay it into a full-time job that could reach $18 an hour.
He knows he needs to move somewhere; his girlfriend is pregnant.
"I could move into a rooming house with hookers and crackheads. But you go to work and your stuff would be stolen by the time you get home. I'd rather sleep outside," Marc said.
Most of this year, the city has been pushing the homeless from one place to another.
As of late August, the city has shut down nine homeless camps: behind the old Shaw's, Canal Street, Dunbar Street, the Weston Observatory, Canal Street (again), the Second Street Bridge near Bass Island Park, Piscataquog River Park, the West Side Ice Arena and Taylor Street.
The city puts up a notice and police tell people they will have to leave. The notice gives people about two weeks to leave, and in all but two instances, the residents had scrammed before the cleanup crew showed up.
"Ninety-nine percent of the time, we tell them to move along and they move along," said Police Chief Carlo Capano. "The situation in the parks is difficult. Where are these people supposed to go?"
He noted that the shelter has been filled to capacity.
"We're getting to the point where it's just displacement. We're moving them from park to park," he said.
The homeless people I spoke to had generally good things to say about police. Police have told them to clean up their litter, and not leave their gear unattended during the day. They also warn them not to drink or smoke in the parks.
If the homeless push back on those rules, the pushback from the city will be stronger, Marc said, quoting police.
To be sure, during our conversation Marc walked to the edge of the park to smoke a cigarette.
Capano said his officers will arrest or ticket the homeless if they violate the law or city ordinances (three were arrested this week for taking drugs at Veterans Park), but police can't arrest people because they look disheveled and are sitting in the park.
"It's a battle to explain to people that law enforcement cannot solve homelessness," Capano said.
The people sleeping outside say they don't want to live in a shelter. People use drugs. Possessions get stolen. They questioned the cleanliness.
Why so many homeless people?
"Some of us have our s- — together, and there's people who really don't know what to do," Marc said.
Higgins said he has mental health issues. It's hard to change once you're on the street, he said, and people need guidance.
"Give people chances," he said.
Marcoux expects to be off the street next month, once she starts receiving disability checks on a regular basis.
"Create some jobs. Get these people into recovery. Get these people to have morals and values," she said. "Study Buddhism."