A history of neglect and abandonment.
A pattern of aggressive behavior toward peers.
Three years of incarceration.
Not the kind of background that leads to a stable, long-term relationship.
But on Friday, Jan. 10, a Hooksett family overlooked the rap sheet of the longest-sheltered dog at the Manchester Animal Shelter.
They signed some papers, helped the 10-year-old pit bull mix into their pickup and drove off.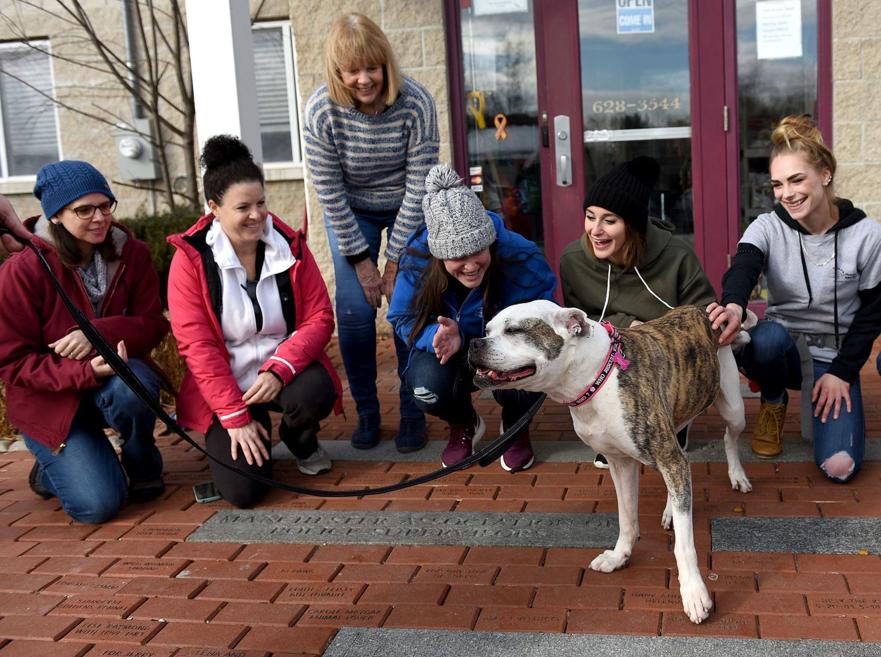 They did so after the barrel-chested Nevaeh plodded and pranced through about a dozen staff and volunteers. Some teary-eyed, they gave their last pats and coos to their buddy, who plodded among her well-wishers and hunted down their attention as if it were a grey squirrel.
Other volunteers bade their farewells Thursday night.
"I'm a little emotional, but I know she's going to a great home and leaving the shelter, so I'm happy for her," said Kristina Acampora, a Hooksett accountant who volunteers at the shelter.
Three years ago, workers arrived at the Dunbarton Road shelter to find the dog clipped to the front door, said Alisa Gibson, executive director of the shelter.
She was emaciated. She had burns from urine on her legs. She had no chip or other means to trace the owners.
The shelter nursed Nevaeh to health and happiness. She's eager to please people and will do anything for a reward, Acampora said.
Yet for years, potential pet owners visited the shelter and passed over Nevaeh.
Old when she was dropped off, she has only grown older.
She is "cage reactive," meaning that she will bark fiercely and bare her teeth (but still wag her tail) when you stand outside her cage.
And she does not get along with other dogs and pets.
So she sat in her kennel. Twice she had been adopted out, twice returned. One owner had his girlfriend move in with her two dogs, and Nevaeh went back to the shelter. Another died and his family thought the dog was too much to handle.
Friday was day 857 since her last return.
"She's been a little prisoner here for so long," Gibson said.
"It's heartbreaking. She's been here forever," said John Valles, who will be the new owner. "She's such an amazing dog. I can't believe she's here."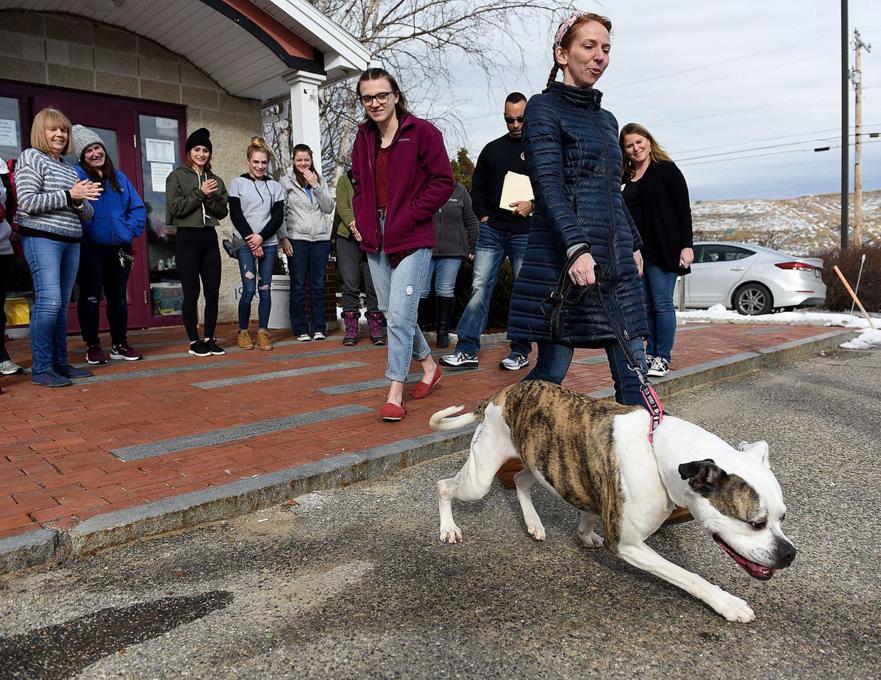 Valles, his wife and their 18-year-old daughter picked up the dog.
Tracey Valles said the family wanted a dog for a long time, but she did not think the family would be good dog owners because of work and school schedules. Now, John, a Boston transit police officer, and Tracey, a nurse, work different shifts. And their daughters are in college.
That means at least one person will be home with the dog most of the time.
John dismissed any concerns about the dog's size.
"It's a real dog," he said.
Gibson said Nevaeh is a boxer mix, and a sign on her kennel reads "One Boxer is Never Enough."
But the dog has a squared-off snout, barrel chest, muscular limbs and short fur, which prompts the menacing translation, pit bull.
"She's a mix of something," Gibson said. She said pit bulls and chihuahuas are the two most overbred dogs in the country. Pit bulls and mixes overwhelm northern shelters; chihuahuas southern shelters.
Gibson said the shelter has a Fix a Pit program that offers free spaying or neutering for pit bulls. It is considering giving out gift cards to pit bull owners who neuter their dogs.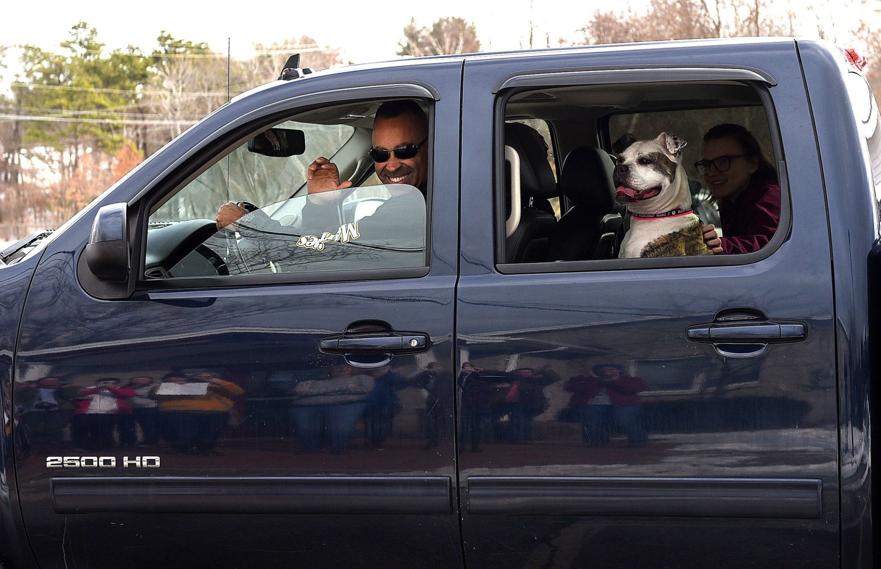 One pit at the shelter this week was from Lynn, Mass.
The dog was found in an abandoned apartment and brought to the Manchester Animal Shelter because it was likely to be put down, Gibson said.
While officially a no-kill shelter, the shelter will put down animals for medical reasons or if they continue to be a danger to humans despite attempts at retraining, Gibson said.
Not necessary for Nevaeh. Any pointed-ear intimidation potential is lost in her forward curl and alternate coloring; the left ear is white with black spots; the right ear is dark.
She offers people her paw. And when a food treat is possible, she lets out a diminutive, poodle-pitched bark.
Valles said the family has purchased an elaborate dog bed, but he expects she will spend most of her time on the couch. The family has a big yard where Nevaeh can play off-leash when she gets used to her surroundings.
"Our goal," Valles said, "is to spoil her for the rest of her life."