Her name is Judith Martin, but many newspaper readers know her as Miss Manners.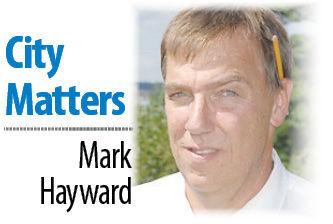 For decades, she has advised us about propriety, civility and etiquette, qualities that seem to be falling by the wayside.
They are important especially now, in this age of pandemic when the need to maintain our social distance has never been greater. And maintaining social distance is, after all, what etiquette is all about.
Unfortunately, this newspaper does not run Martin's Miss Manners advice column. (A Google search tells me that the Washington Post carries her column, and Martin is 81 years old.)
So we will have to do without her wit as we ponder a life-and-death question of civility: How to tell someone they have violated our 6-foot zone of protection from COVID-19?
Were it not for this pandemic, a polite response would be unnecessary.
We could just say: "Hey #%%5E(+, what the hell is wrong with you? get out of my @%&$# space." But a fight could follow, and the whole point of social distancing would be lost.
So I turned to the smartest people I know, my Facebook friends, and asked for suggestions for how to politely inform space invaders of their incursions:
"Oh gosh, I'm sorry, I'm close enough to spit on you," suggested real estate agent Greg Powers. It's always good to give a fake apology when actually the knucklehead you're speaking to is at fault.
Several friends suggested audio alarms. An air horn, a whistle, or as photographer Josh Gibney suggested, an app. Apps exists for everything else, why not an app alarm for social distance violations. (Maybe even one to wash our hands, too.)
"Please stop, we need to be 6 feet from each other." That's what photographer/artist Judy Merrill recounted. This wasn't something she dreamed up leisurely at home. She had to blurt it out as she was giving directions to a stranger who kept drawing closer. "She laughed and I walked away," Merrill said.
Union Leader op-ed columnist Jennifer Horn suggests: "I'll just stay over here so I don't risk passing any germs to you." (That might be a good way to bail out of a conversation, even with a healthy person.)
"When they say 'we're all in this together' ...I don't think they mean physically," suggested political consultant Alicia Xanthopoulos. She stressed that one must sing the lyrics from "High School Musical" or it doesn't work. If you start singing to strangers they're going to walk away pretty quickly.
A garlic necklace, the classic vampire repellent, might work, suggested state Rep. Katherine Prudhomme O'Brien.
"This Court Order mandates that I inform you I might be contagious," suggested former Union Leader reporter and labor advocate Jim Schaufenbil.
Another tip for self-repulsion: "Ask them if they've been saved and then begin to give them your 'testimony,'" suggested restaurant manager Monica Deutsch Poulin.
Several suggested that people carry with them anything 6 feet in length: a 5-iron, selfie-stick, a snow shovel. A fierce pitbull on a short leash would also work.
"Fake a cough and watch them scatter," suggested retired reporter Bryant Jordan.
And several variations of the same message: "6 feet away is better than 6 feet underground," from communications consultant Matt Cookson; "6 feet away is temporary. 6 feet under isn't. Back off!" suggested biomedical recruiter Phil Nachman. And my version: "6 feet horizontal beats 6 feet vertical."
I'll end with a post from state Rep. Vincent Paul Migliore. He is not the first person who has quibbled with the term "social distancing." We are supposed to physically distance; the term social distancing refers more to isolation.
"'Social distancing' would be actually getting the hell off Facebook — which is not a bad idea, either," he said.
But how could I talk to my friends?