It took some subterfuge, and we had to drive miles outside the city.
But we found our quarry squirreled away in a New Boston campground.
Three people talked to us. Like most who spend a lot of time outside, they were healthy and happy. But their home turf is Massachusetts, so undoubtedly they were poised to cough all over the Granite State and infect us with COVID-19.
But they will remain. On Friday, Gov. Chris Sununu said campgrounds can open to New Hampshire residents only. But in the fine print, he said campground members — meaning people who have anchored their summers in New Hampshire campgrounds with more-or-less permanent travel trailers — can stay.
When it comes to campgrounds, the anti-Massachusetts language had jingoistic overtones. Don't open up campgrounds. It will only bring them in. They will infect us all.
"I think it's gone a little overboard," said Billerica resident Steve McCaughey. "The peak of COVID-19 deaths is past, it never was as bad as experts had predicted, and things will slowly return to normal. "What are you going to do, run scared for the next 20 years?"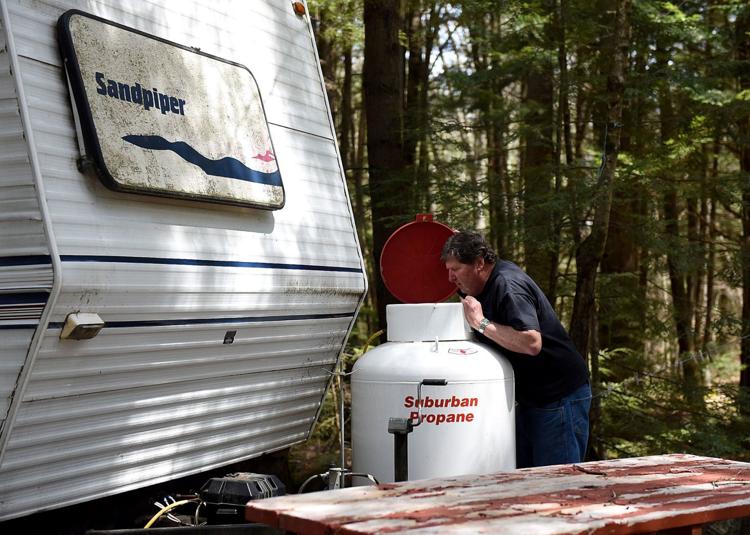 Last Wednesday, the afternoon sun easily penetrated the tall pines and warmed the air enough to render jackets unnecessary. Black flies dive-bombed my face but had yet to develop their ravenous appetite for human blood.
McCaughey is a retired telephone company technician. His wife, Naomi, cares for mentally ill people in a residential setting. They visit Friendly Beaver, one of the largest campgrounds in southern New Hampshire, to escape congestion — and their state's higher infection rates.
Any disease is less likely to spread at the campground, where the virus faces lethal combinations of sunlight, heat and humidity, McCaughey said.
"When you're at home, everyone's inside. When you're at the campsite, everyone's outside at the campfire," he said.
If you weren't from Massachusetts, you would think the campground is congested. Lots are small. McCaughey, who was working on his daughter's camp, estimated the site to be about 1,800 square feet, about the size of a front yard.
The owners are convinced they have everything worked out. When the campground re-opened two weeks ago, returning campers found a new set of strict rules.
Campers must stay within their own sites and can't visit other sites. No use of the ubiquitous golf carts to get around. No visitors. No congregating.
Just about everything is closed: pools, playgrounds, rec halls, laundry, bathrooms. The camp store takes orders by phone and customers pick up outside.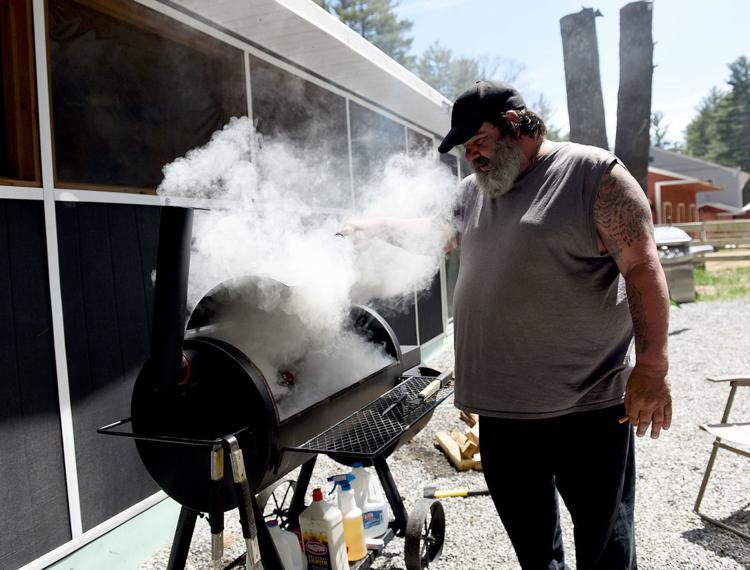 "We don't want to see it spread here," said Christine Quirk, matriarch of the family-owned campground. (We spoke after her sons, annoyed at photographer David Lane and me, asked why we didn't stop at the office and sign in.)
Friendly Beaver, which is normally open year-round, closed for 23 days last month. The family used the time to engineer the reopening, said Quirk's son, Robert Charest.
They halved the number of spots for transient campers to allow for distancing. He cut the 30 tent sites to four.
In a demonstration of small-town political sensibilities, Quirk, a firefighter/EMT, calmed any concerns the fire chief might have by closing showers to campers and reserving them for first responders to decontaminate.
"I understand their concern," Charest said about officials in other towns who have fumed about campgrounds. "But it can be done as long as you do it right."
That is the essence of the open/don't open debate.
Stress the need for precautions and rules. Make them clear and simple. And people will follow them.
Perhaps a few people won't. Some out there yearn to experience life with a ventilator tube down their throat. So the last paragraph in the rule sheet references strict enforcement, warnings (there won't be any) and exile.
"I want him to do whatever the safest thing is," said Jamie Moynihan, who moved in on April 24 with her teenage son, daughter and granddaughter. If that means she has to leave, Moynihan said, she will.
She'll move back to her expensive, second-floor apartment in a triple-decker in Somerville. Where she is only a car's width from the next building. As for the new rules, they are fine, she said.
She feels safer at Friendly Beaver. People who complain about campgrounds should follow the rules, whether the governor's or the campground's, she said.
"As soon as I could come back here, I did," Moynihan said. "The van's from Massachusetts, my registration says Massachusetts, but my heart's in the country."