Lee Drysdale and Mark Woods have been a couple for about 24 years.
They are in their early retirement years and fortunate to be healthy and active. They maintain a close circle of friends. And they work part-time or volunteer for organizations such as the Turkish Cultural Center, Liberty House and the Friends of the Cashin Center.
Four weeks ago, however, they were international pariahs, stranded on a cruise ship with dead and sickened passengers in the early days of the COVID-19 pandemic. Theirs is a story about ordinary people getting caught up in a paranoia that swept the globe faster than any disease can.
At times, their cruise liner was surrounded by police and gunships from South American countries that refused their port of call. Even Florida's governor wished they would go away.
"That wasn't right," said Drysdale, a retired Boston lawyer who lives in south Manchester. "We were Americans, 400 of us. That was one of the worst moments. Fort Lauderdale was in the distance, and they were playing politics."
The two started what was supposed to be a two-week cruise in Buenos Aires on March 7.
At that point, the world knew about the coronavirus. But they are adventurous, and they reasoned that Holland America was in charge and knew best.
"At the same time, you had Donald Trump and Fox News saying it was a Democratic hoax and it will pass like a miracle," Woods said.
Four days out to sea, the World Health Organization declared COVID-19 a pandemic. Three days later, Chile — the country where they had planned to disembark — shut its borders. The best they could get was a two-day anchorage in the waters off Valparaiso, where the ship stocked up with food and fuel.
Peru was closed. Mexico was closed. At one point, an airplane had to drop medicine onto the ship.
"It was a lousy feeling. You start to say to yourself, 'Are we ever going to get off this ship?'" Drysdale said.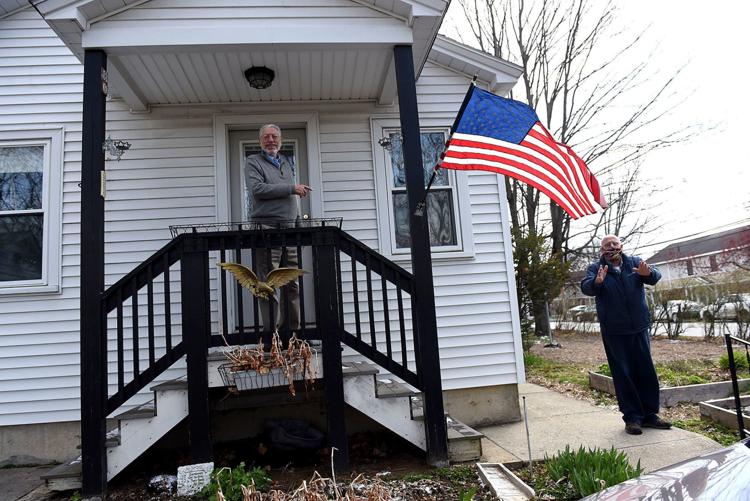 By Day 15, sickness had gripped their ship, the Zaandam. Four people were dead and dozens had flu symptoms. They were quarantined in a tiny, windowless room for five days.
"I did exercise, we played cards, took a nap in the afternoon," Drysdale said. "Mentally, it does affect you. It's cabin fever."
On the west coast of Panama, Drysdale, Woods and healthy passengers were ferried to a second cruise ship, the Rotterdam. They were still quarantined, but this time in a seaside room with a balcony.
Panama originally balked at passage through the canal. But they eventually proceeded, in the middle of the night with lights extinguished.
Florida was their destination, Florida had some hesitation.
"We think it's a mistake to be putting people into Southern Florida right now given what we're dealing with so we would like to have medical personnel simply dispatched to that ship and the cruise lines," Florida Gov. Ron DeSantis said at one point, according to an archived CBS News article.
Eventually, he relented, and the ships unloaded — the Zaandam in a dock crowded with ambulances. Then the Rotterdam. Police motorcycles escorted their buses to a private airport.
"They were there to protect us in case the mobs got to us," Woods said. Both heaped praise on Holland America and said they opted for credit for a future cruise rather than a cash refund.
They had been afloat for 27 days, twice as long as they had expected.
Once in New Hampshire, they began a 14-day quarantine. A week ago, their quarantine ended, and they started making the same trips we all are — a foray to the grocery store, a stroll around the neighborhood.
Drysdale said it was unnerving, and he suffered some trauma from it all. Woods said he understands fears associated with COVID-19.
As gay men who lived through the AIDS epidemic of the 1980s, this isn't their first go-round with a deadly communicable disease, Woods said. He understands the need for prevention and social distancing.
"Florida didn't want us in. Can you blame them?" Woods said. "Nobody wanted us. If it was New Hampshire and Portsmouth, they wouldn't want us. To them, we were contaminated."