Four years ago, Harel Gietheim, the cello instructor at Manchester Community Music School, agreed to meet with Roric Cunningham, an incoming freshman at Manchester High School Central.
A fellow musician at the Nashua-based Symphony NH had pestered Gietheim to listen to the young cello player, but Gietheim didn't expect much.
Roric was a Manchester kid, living in a single-parent home in center city, where gunshots sometimes make for night music. His only instruction involved YouTube videos and a few group lessons at Hillside Middle School on rudimentary topics such as finger placement and bowing.
The meeting ended with Gietheim encouraging the music school to provide free lessons for a kid who was delivering high-quality sounds even with self-taught unconventional methods. Since then, Roric has soloed with several New Hampshire symphonies and played regularly with the N.H. Philharmonic.
Last summer, he toured Asia and played Carnegie Hall with the National Youth Orchestra.
On Jan. 26 and 27, he soloed with the N.H. Philharmonic at Salem High School, performing Shostakovich's demanding "Concerto No. 1 for Cello." In Manchester at least, he's the rock star of the classical music world.
"His brain is wired differently," said Gietheim, who ticks off his qualities – a great ear, a natural vibrato, calmness under pressure and the physical size needed to command the instrument. Plus there are intangibles – an eagerness to learn, curiosity about music, humility and a devotion that includes three to four hours of practice daily.
"It's something I've never experienced, to have a student like him," Gietheim said.
It begins with how the musician perceives the instrument.
"I think of a cello as a thick, rich chocolate milk. Real thick chocolate milk," Roric said.
He's drawn to classical music for its variety and spectrum, he said.
Roric plays on a master-crafted cello on loan from Seattle-based Carlsen Cello Foundation. He draws the bow and coaxes a cry from the taut strings. His left hand climbs and descends the polished spruce of the instrument's carved neck, the fingers arcing and flattening across the fingerboard to seize the right note.
"You have to feel and hear at the same time," he said. "It's always adjusting to what the ear hears."
Roric, who stands 6-foot-2, said he's enjoyed Central and has found his niche with the music department.
"There's a lot of really nice kids here," he said. "We care about one another."
Roric is currently ranked ninth in his class; when he's not playing music he's watching Netflix, "I've seen 'My Cousin Vinny' about a 100 times," he said.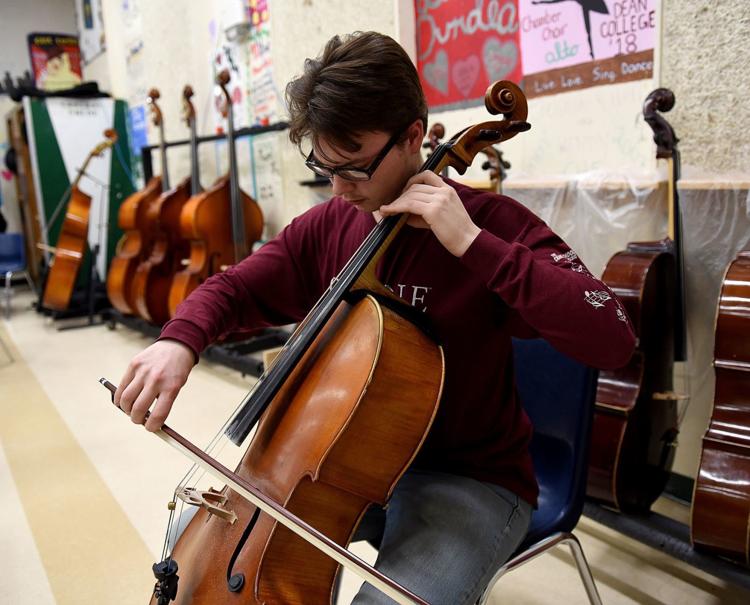 This semester Roric is auditioning at colleges that specialize in music – Julliard, Eastman Music School, Cleveland Institute, Oberlin College, New England Conservatory. In three months, he expects to know where he is going. Mark Latham, the music director at the Phil, and Gietheim predict he will be admitted on a scholarship, and eventually land at one of the country's best symphonies. A recording career is even within reach.
"His talent level is really quite extraordinary," Gietheim said.
To tour Asia with a 100-member youth orchestra is one thing, but to solo in a symphonic concerto is quite another. The attention of orchestra and audience is on the soloist. Roric will play without a score, relying on memory to play about 35 minutes of music.
The "Concerto No. 1" is four movements rather than the usual three. The soloist plays the six-minute third movement entirely unaccompanied.
Latham, who will conduct the all-Russian performance, calls the piece one of the greatest cello concertos. It's full of energy, pathos and emotion, but also with challenging patterns.
"I have great confidence he's up to the task," Latham said. "It's rare for a kid his age to pull it off."
Performing such a challenging piece in concert can be disconcerting.
"Some people will tell you nerves make it sound better. I think it gets in the way," Roric said, adding he hasn't so much memorized the piece as absorbed it from months of practice. "It's not like you're studying for a science test. It's something that happens unconsciously."