Katie Schelzel is on the floor of her Manchester apartment, being hit repeatedly by an on-again, off-again boyfriend. The beating lasts so long that her assailant – Ronald Cross – has to take a break to catch his breath, she later tells police.
Schelzel focused on protecting her neck, which was still in a brace following a recent surgery.
"It's like a car accident. It happens really fast, but everything seems to slow down," Schelzel recounted. "I thought 'is this how I'm going to die?'"
She lived, but she hasn't found justice.
March 23, 2018:
Cops had arrested Cross and prosecutors brought eight domestic-related charges against him, including two felonies. But the emergency room doctor's notes were too sparse, and a Hillsborough County prosecutor warned Schelzel that a defense lawyer would prevail at trial, she said.
Prosecutors and Cross' lawyer reach a plea deal. He pleads guilty to a misdemeanor domestic assault and avoids jail. But he has a suspended sentence, meaning he has to stay out of trouble for five years; if he gets arrested for anything, he will have to go to jail for a year. Schelzel agrees to it.
"I wasn't happy about it, but my goal was to protect the next woman," Schelzel said. "I knew this wasn't going to stop."
March 14, 2019:
That suspended sentence isn't followed when Cross accepts a plea bargain stemming from a standoff eight days earlier with a Manchester police SWAT team. He pleads nolo contendre to resisting arrest, a domestic violence charge is dropped and he is sent to Valley Street jail for 40 days.
Schelzel found out about the deal from Cross' girlfriend, she said. She only heard from a Hillsborough County Attorney victim-witness advocate after she called the New Hampshire Attorney General to complain, she said.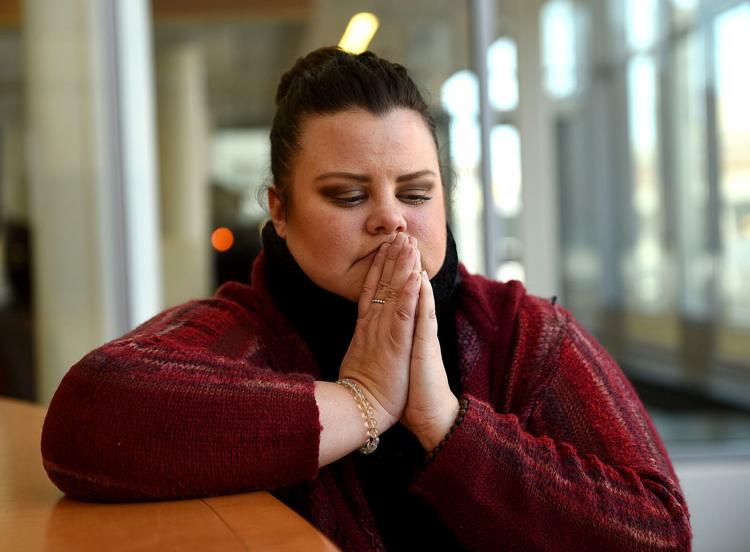 "I find it outrageous that this (suspended sentence) was overlooked," Schelzel said. "I'd like to know what they're going to do to follow best practices going forward."
This is a complicated case, in part because the prosecution involves two different offices.
The Hillsborough County Attorney's Office handled the case involving the attack on Schelzel.
The more recent charges, which were misdemeanors, were handled by the domestic violence unit of the Manchester city solicitor's office. Cross' case was handled by Steven Ranfos, a retired Manchester police detective who got his law degree and now prosecutes bad guys.
"These cases are so difficult, so tricky, so tied up in emotions," Ranfos said. He said the SWAT team standoff stemmed from the mother of Cross' girlfriend, who called police to complain that Cross had beat her daughter.
Cross ran into his apartment when police showed up and threatened to kill himself. The SWAT team eventually breached a barricade and arrested Cross.
Ranfos said the four-month sentence was agreed to during a bail hearing in the District Court.
Ranfos said there were several considerations. Cross' girlfriend wouldn't press charges, so Ranfos didn't want to force a possible victim to testify against her wishes. The only other charge he had to bring was resisting arrest, and he might not get a guilty verdict at trial.
And even if he did, a judge would have to approve invoking a suspended sentence.
"That's a gamble, too; it's certainly not an automatic thing," Ranfos said. Ranfos said he reached out to the Hillsborough County Attorney's Office, which OK'd the plea bargain.
He did not speak to Schelzel because she was not the victim in the recent case. He asked me to pass on his number to her.
"There's a victim in every case. We try so hard to meet their wishes and keep them happy," he said.
Ranfos spoke to me candidly via the phone three times about the case.
Hillsborough County Attorney Michael Conlon sent a single email and did not respond to follow-up questions. He did provide me the case file, although he withheld several portions.
"This specific case is under review and therefore I won't comment about it at this time," Conlon wrote.
He said he welcomes the opportunity to meet with "appropriate parties" to discuss the status of any case. He expects that his office will meet with victims about cases and plea bargains in compliance with the Victim Bill of Rights.
He said his victim witness office is vital to the management of many cases.
Cross' girlfriend initially spoke to me but then said she did not want her name used. She denied that Cross hit her.
Police reports from the Schelzel attack said she had a small laceration on her right cheek and an extremely red face. The hospital told police she suffered a mild concussion.
Schelzel said the beating meant that she never properly healed from the surgery. She still needs to wear a brace, and some days she can't feel her arms. She has applied for disability.
Schelzel has a career that includes being a program director at the YWCA, the nonprofit that assists victims of domestic and sexual abuse in the Greater Manchester area. A graduate of Southern New Hampshire University and a recipient of the Union Leader's 40 Under Forty in 2010, she founded the YWCA's family visitation center, where abusers used to meet their children under supervision.
She was working on Aug. 12, 2013, when Muni Savyon entered the center and shot and killed his 9-year-old son, Joshua, and himself.
Schelzel said she resigned shortly afterward; she had nothing to give. "I was a puddle," she said.
Schelzel had known Cross from middle school, and they became involved after he contacted her via social media and asked about how to talk to his daughter about his checkered past.
He wanted to be a good dad, he told her. He showed a vulnerable side that Schelzel found attractive.
"Is it embarrasing? Yes, but am I ashamed? No," Schelzel said. "If I can't sit here and talk about what happened to me, who can? It's almost an obligation. This is why women are killed."