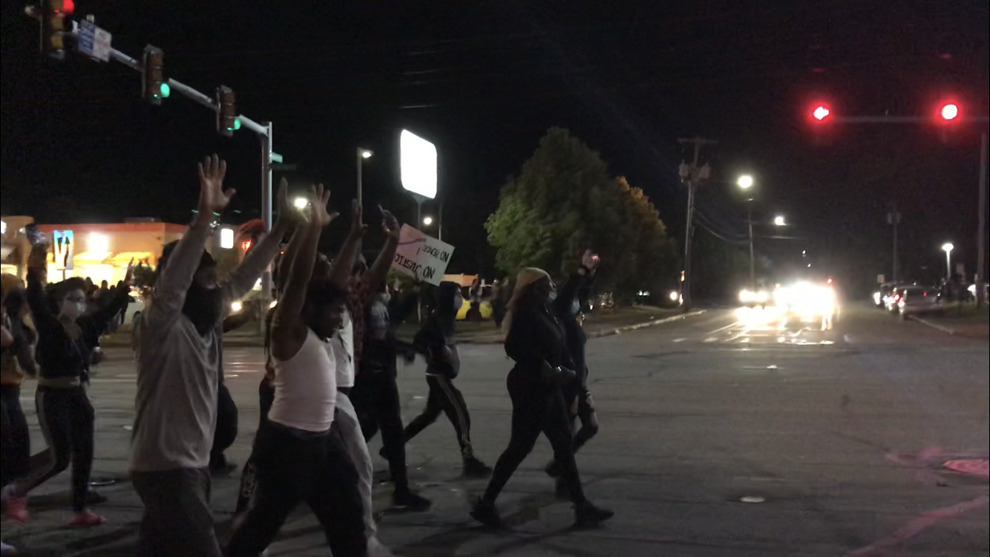 DESPITE THE POSITIVE vibes coming from the inauguration of President Joe Biden last week, the siege of the U.S. Capitol smolders in our national conscience.
Death, destruction, lawlessness, insurrection in the heart of our capital. All over the imagined notion that the national election was a fraud.
Seven months ago, Manchester had its own chaotic moment, a night of unrest on South Willow Street. That dealt with the very real plague of police killings of African Americans.
The night was June 2. There were two rallies. Many in Manchester played nice and rallied at Stark Park to hold candles and hear speeches from Black Lives Matter leaders. But about 100 people, mostly youth, took to South Willow Street more aggressively.
They walked into traffic. They yelled and taunted police. They threw plastic bottles at police clad in riot gear.
To sum it up, it was a misdemeanor riot.
That's because even though several participants were arrested on felony charges, those who have gone before a judge ended up with misdemeanor convictions.
Here's a quick rundown of the cases:
Two White men who live in Manchester suburbs and were in their 20s — supposedly old enough to know better — got off with hand slaps. Kyle Toledo, 20, of Hooksett, will do 50 hours of community service for throwing fireworks over the heads of cops and into a parking lot. Weare resident Jameson Brisendine, 24, set a dumpster on fire and received a suspended sentence.
A Black man, Antwan Stroud, will do 30 days in jail and be on probation for two years. Stroud had no criminal record, was 18 at the time and lived in a Lake Avenue apartment.
He pleaded guilty to urging a crowd of about 10 youths to approach a police SUV. They shouted nasty words and threatened the driver. They flipped him off. They spat on the cruiser. Prosecutors dropped a charge that Stroud encouraged Toledo to light and throw the firework.
A judge sentenced Stroud the day after the siege on the Capitol building.
CONTENT WARNING - Explicit language some may find offensive.
At his hearing, the prosecutor insisted that the judge view Stroud's video of the spitting incident. (Like the Capitol Hill rioters, Stroud was naive enough to film himself and post it to social media.) Superior Court Judge Will Delker said he wanted to make an example of Stroud, according to Stroud's mother, Leona Farrar.
"Ultimately, the only thing he's showing is the mistreatment when young Black men end up in the justice system," Farrar said.
Until last year, I generally rolled my eyes when I heard phrases such as white privilege and systemic racism. Now I listen and think longer.
Assistant Hillsborough County Attorney Thomas Craig handled the mini-riot cases. I asked about the apparent disparity in the sentences and whether systemic racism was an issue.
He emailed me an unsigned statement that said Stroud incited violence, and the Hillsborough County Attorney takes any effort to incite violence against police and citizens seriously.
"It doesn't take much to ignite a crowd into violence … In order to protect the right of the people to protest peacefully, the criminal justice system needs to deal firmly with those individuals who try to tip that balance over into violence," the statement reads.
No response to my question about systemic racism.
If the system is dealing strongly with individuals who incite violence, then Daniel Zeron should be sitting in a jail cell.
Zeron is the White man, 19, accused of using social media to encourage violent riots on South Willow Street. He was charged with a misdemeanor, and he's living with his parents in Plymouth, according to court files. Nothing has happened with his case since August.
Stroud was angry when he went to South Willow Street on June 2, he said in a Facetime interview.
"We were trying to prove a point to police: that killing Black people is not OK," he said.
He said no one destroyed property and he only directed his outrage toward police.
He noted that all the cops he saw were White.
He said the worst crime was throwing plastic water bottles at police. Stroud was never accused of doing so. The one outstanding felony case involves Derryfield resident Dylan Smith, 23, who allegedly threw plastic water bottles at police.
Stroud and his family moved to Colebrook after the incident. He said he's working on his GED and is not getting involved in anything at this point.
Stroud grew up in the city but doesn't want to deal with Manchester anymore, he said.
He took the plea bargain because his lawyer warned that if the case went to trial he could end up with a felony conviction. His future is on hold. He can't serve his sentence at Valley Street jail until June because of the COVID-19 outbreak, he said.
"They're trying to ruin my life for spitting and fireworks," he said.
He describes the Washington, D.C. siege as crazy.
Compare the two. When Manchester people planned to protest racial injustice, the governor called up the National Guard, businesses boarded up their windows, and cops dug out their body armor and face shields.
But when thousands of Whites, deluded by conspiracy theories, gathered in Washington, police brass figured a few uniformed police and waist-high metal barriers would control any unrest.
"If I would have went there and did that," Stroud said, "I would have been shot and killed. No hesitation."