Nothing is more frustrating in Manchester than our homeless population.
The softest-hearted liberal can turn to a raging authoritarian when a homeless camp sets up in his neighborhood.
The most tightfisted of conservatives will demand that the government spend money to fix social problems when her son ends up addicted and on the street.
The city has done a little of both. Camps have been evacuated and bulldozed, at least before the COVID-19 pandemic. And all sorts of government and charitable programs are available to tackle the root causes of homelessness — drug addiction, mental illness and poverty.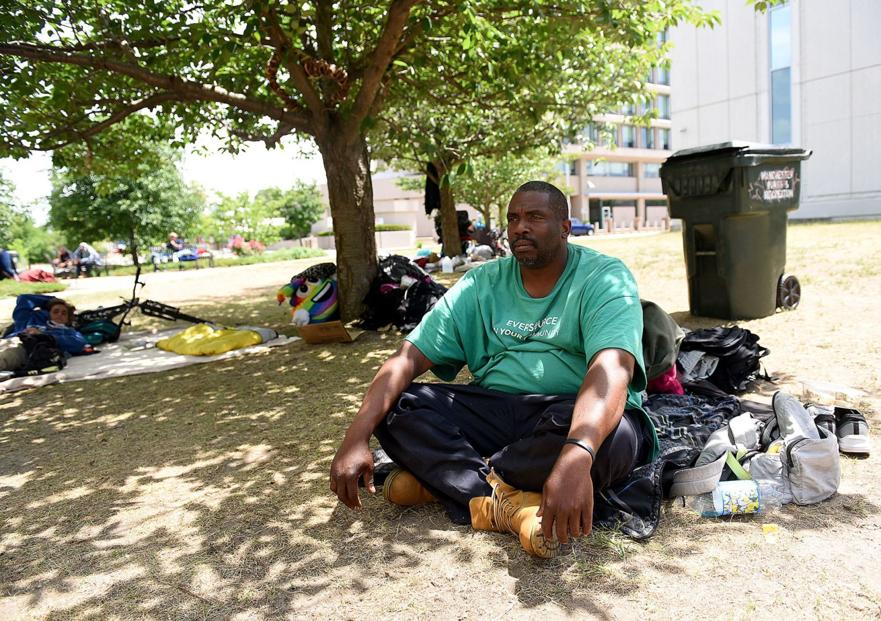 The city's most recent strategy on homelessness changed this past weekend. Workers removed the state-funded bathrooms and sinks from a handful of encampments around the city. Meal deliveries stopped too, but to-go meals are available at St. Casimir School.
No one knows what's going to happen, and I certainly don't have answers. But here are five things to keep in mind as the city's homeless strategy shifts once again.
The camps worked
Toilets. Sinks. Trash pickup. Meal deliveries. Police coverage. All were provided to four homeless camps to allow the homeless to self-quarantine during the peak of COVID-19. The camps remained clean.
And they are reasonably safe, according to Manchester Fire Department statistics.
From the end of April to mid-June, the fire department responded to 38 calls to the four camps. (Most were medical calls, which would include overdoses.)
For the same period, the New Horizons shelter, which housed fewer people, logged 24 calls.
Last month, I visited Camp Live Free, which is underneath the Amoskeag Bridge. Residents said they use their cellphones to participate in telehealth counseling sessions. And they were supporting a couple who lived there and had stopped using heroin. They were proud of a shower they had rigged up.
"I think there's power in groups. We've known that for years," said Rik Cornell, vice president of community relations for the Mental Health Center of Greater Manchester. He thinks the city should keep providing food and bathrooms for the camps.
"Feeding them keeps them alive and gives them hope," he said.
No one else wants the camps
Neighbors complain. Aldermen complain. The Police Department has received numerous complaints about the camps, Police Chief Carlo Capano said earlier this month.
"Nobody wants to see people living on the side of the road with a port-a-potty and a sink. It's not where you want to see society going. It's inhumane," he said.
North End resident Adam Lord said Camp Live Free has stretched nearly a mile upriver along the railroad tracks. When he jogs on the Heritage Trail, he sees needles and hears campers fighting. He suspects prostitution is going on too. People defecate in the river.
"I never want to kick someone when they're down; it's un-Christian," he said. But all the politicians ever do is point fingers, he said. He wants the nonprofits, government officials and neighbors to get together for a problem-solving session.
Despite the cutoff of food and services, the campers can remain where they are, according to Lauren Smith, chief of staff for Mayor Joyce Craig.
"They're not going to be forcibly removed," she said.
The numbers don't work
Because of COVID-19, Families in Transition (FiT) took necessary steps to add social distancing to its New Horizons shelter. It trimmed the capacity at New Horizons to 64, a number less than half its pre-COVID-19 bed count.
Another 57 beds are available between the St. Casimir School and Angie's Place building.
Last Wednesday, Families in Transition (which operates all three shelters) hosted 80 people. Meanwhile, a recent estimate from the mayor's office put the number of people living outside at 120.
That's 200 people in tents and shelters but only 121 emergency shelter beds. If all arrived at a shelter tonight like the city wants, FiT would be 79 short.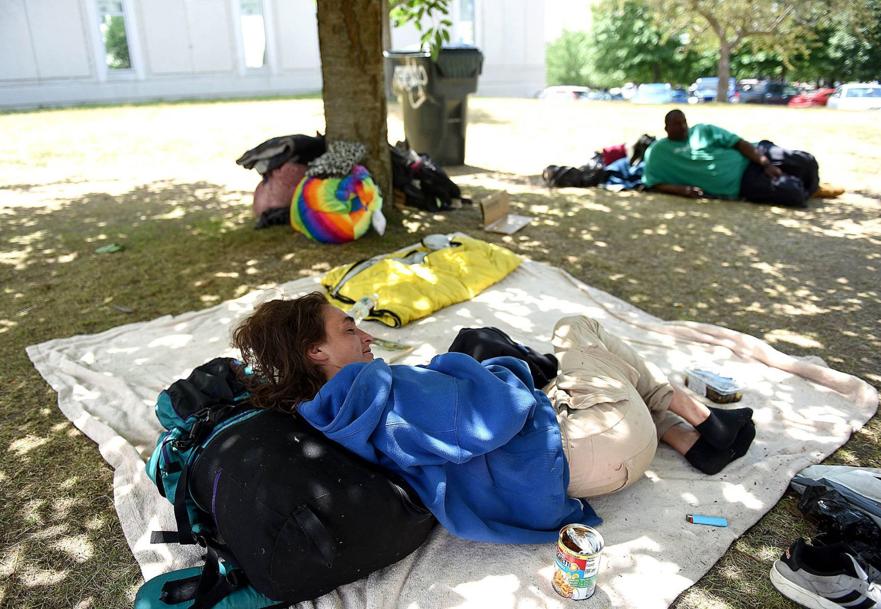 "So what are the people supposed to do?" said Stephane Webster, 47, who lives in a tent with his girlfriend and relied on the food delivery.
They're getting more visible
The newest homeless camp isn't really a camp at all. As many as two dozen people congregate on the lawn beside the Hillsborough County Superior Courthouse. Most use blankets, and I saw a hammock on a tree one evening.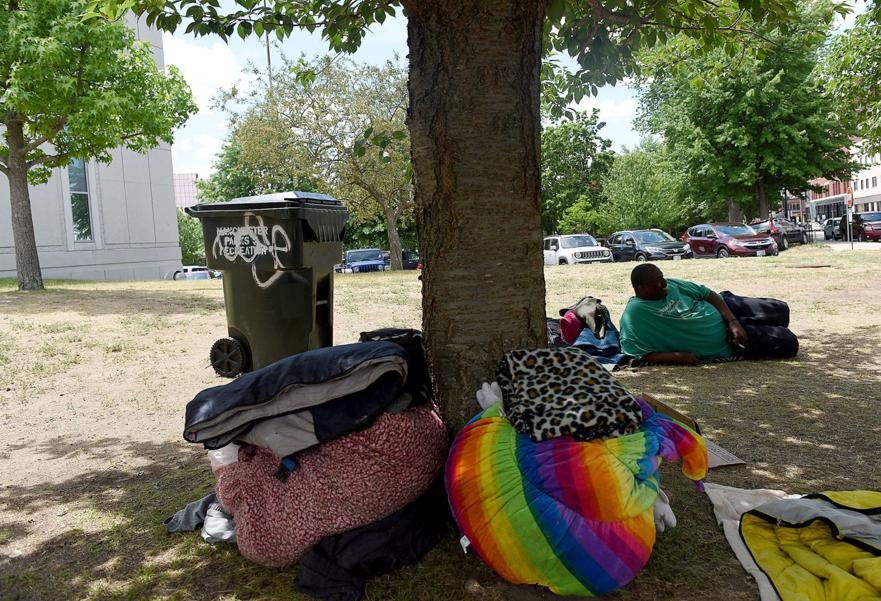 Food is nearby, they said, and they use the portable toilet at the adjacent Veterans Memorial Park.
Many get checks. Joe Louis said he can afford an apartment but not the security deposit. He won't stay at the shelter, where he resents the rules, including an early curfew. "Being in the shelter makes you feel like a kid. I'm a grown adult, I'll do what I want."
Manchester police tell the campers to keep the area clean, and the city has provided numerous trash totes. The cops tell them things will change when the courthouse opens for normal business.
Capano stresses that homeless people have rights and he is limited in what he can do. While he can kick people out of a park after curfew, he can't evict people from non-park city property, such as a lawn or roadside right-of-way.
"We can't force them. We can't physically force them to go anywhere," Capano said.
Long-term solution?
The latest long-term solution to homelessness is Housing First.
The notion: a home provides stability, which provides healing, which allows people to work on self improvement.
But there are a couple problems with that: there's no housing and no money.
Formerly homeless, Bonnie Cote shares space with others in a FiT apartment. She wants a place of her own and can afford it with her disability check, but she has no credit and no rental history. Makes it tough in a tight housing market.
"If they don't want to rent to homeless people, then how the hell are we supposed to be responsible?" Cote said.
Meanwhile, Stephanie Savard, the chief operating officer at FiT, said the state has yet to deliver rental assistance money needed to put people in apartments.
"It's going to be needed pretty quickly," she said last week.
The city had embarked on a Housing First strategy. In January, the city hosted a day-long seminar with a Texas consultant the city had hired for $64,000 to devise a plan.
The message: housing amounts to health care and the state would have to undertake a comprehensive reworking of health care, social services and city services to address homeless issues. The consultant was optimistic.
Then she screened the HBO film "Ernie and Joe Crisis Cops," which profiled two San Antonio cops who use compassion and respect in their dealings with the mentally ill and homeless people.
The movie seemed to fit in well with the Manchester mentality that our police can do anything.
This year's budget zeroed out any money for the consultant. It funded 10 more cops.