In the late fall of 1812, Mary and Joseph Dyer of Stewartstown, N.H., a village near the Canadian border in northwestern New Hampshire, sent their daughter Betsey, then 10 years old, and son Orville, age 8, to live with the Shakers in Enfield, 130 miles to the south. In early 1813 the couple's three other children — Caleb, age 12; Jerrub, age 6; and Joseph, Jr., age 3 — joined their siblings. Mary, who was then 32 years old, arrived at Enfield soon afterward, and 40-year-old Joseph Dyer reunited with his family there in November 1813.
The decision to forsake their lives "in the World" and to embrace the life of Shaker Believers had come to Joseph and Mary after a period of intense religious exploration where they had worshipped as Free Will Baptists. It appears that Mary lacked confidence about the decision as she had come to some agreement with Joseph that, should she ultimately choose to leave the Shakers, she would be allowed to take some of their children with her.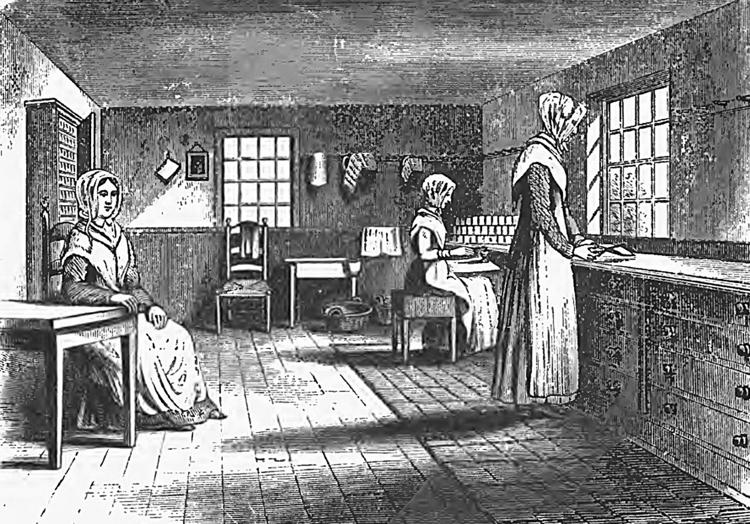 Because the Shakers believed that men and women were equal, Mary was hopeful that her new life would bring her opportunities to deepen her spiritual life, and to lead others toward salvation through preaching. She and other Shaker novices received instructions from the Elders and Eldresses, and, for her first few months at Enfield, Mary appeared to be settling in well. She was even asked to speak at meetings on occasion, but over time she became restless. In her former life she had enjoyed analyzing religious texts, and engaging in conversation about them with others, including itinerant ministers who had come to town to preach. The Shakers, however, expected prospective Believers to accept their teachings without questioning. The Shaker doctrines they promoted had originated from the direct testimony and examples of their first leader, Mother Ann Lee (1736-1784), who was considered to have been the second appearance of Christ on Earth.
The Shaker leaders at Enfield did not welcome Mary's opinions. Her ideas for reforming Shakerism were rejected, including her proposal to allow highly advanced Shakers to have children. This was unimaginable to the Shaker leaders, as celibacy was one of the major requirements of the Shaker faith. Another requirement was that Shakers must confess all of their sins to the community, and to the leaders it appeared that Mary's confessions were always incomplete.
Mary was frustrated at the requirement that she spend her days doing the same types of tedious farm work she had endured in Stewartstown. Her greatest distress, however, emerged from the realization that her relationship with her children was now greatly diminished, if not completely broken. She could interact with them at a certain level, but she was effectively no longer their mother. In an 1847 book she would tell of an incident that occurred soon after she arrived in Enfield in 1813. Her son Orville was sick. He was pleading with his mother to return with him back to their home in Stewartstown when, to Mary's horror, a Shaker Eldress pulled him out of the room.
A similar incident a few months later led to Mary's decision to leave the Shakers. She was mending mittens one day, and two children were with her, one of them being her youngest child, Joseph, Jr. Mary would write in 1847, that a Shaker Eldress "…came into the room with violence, raved at my child, called him mean names, attempted to drag him out, and ordered the other child out. My child screamed in affright. I pleaded with her not to treat him so. 'I will,' said she; 'he is none of your child — he is mine,' and dragged him along … Oh, thought I, this is enough. I found I could render my children no relief, and such trials were hastening me to death … I made up my mind to leave the Shakers immediately."
Historian Elizabeth A. De Wolfe, in her 2004 book about Mary Dyer, "Shaking the Faith," summarized Mary's situation: "Mary's intelligent, independent, and ambitious spirit simply did not fit in within the rigid, structured society. Although the community offered security for an individual, the tyranny of community disempowered Mary and left her frustrated, angry, and alone."