After the dedication of the Lincoln Memorial in Washington, D.C., on Memorial Day, May 30, 1922, sculptor Daniel Chester French continued in his career as the preeminent sculptor of public monuments in the United States. French had been born in Exeter, N.H., where he spent his early childhood. The French family had deep roots in Chester, N.H., which explains the artist's middle name and the name of his estate, Chesterwood, in Stockbridge, Mass. French died in 1931, at age 81. Today, visitors to Chesterwood can enjoy the beauty of his elegant home and studio, and his picturesque gardens, and they can also view an extensive collection of his works.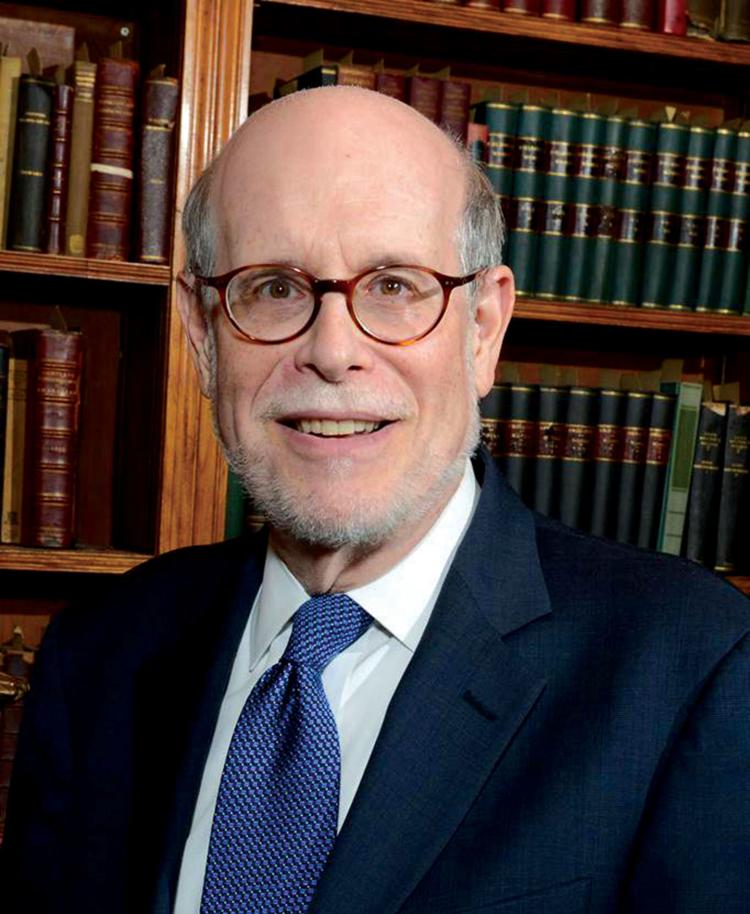 The distinguished Abraham Lincoln scholar and author Harold Holzer recently published a biography of French titled "Monument Man: The Life and Art of Daniel Chester French." Through his lively narrative, Holzer weaves the fascinating story of a modest and sometimes enigmatic artist. From an early age French was moved to create sculptural works that captured the essential nature of his subjects, and that inspired viewers. Holzer graciously agreed to be interviewed for this column.
AE: What made you decide to write the biography?
HH: I wish I could say "Monument Man" was my own idea. But credit goes to Donna Hassler, director of Chesterwood, Daniel Chester French's summer home and studio in the Berkshires. She approached me to undertake the biography. So, the decision was easy. I was recruited!
I chiefly knew French had sculpted the seated Lincoln in Washington and the standing Lincoln in Nebraska. The biggest surprise I got was learning how many public spaces all over the country are adorned with his magical work — from Concord, Mass., to New York to Chicago. A copy of one of his works is in Forest Lawn Cemetery in Hollywood. Another was stolen from a Brattleboro (Vt.) square by thieves in a helicopter. At Columbia University, anti-war protestors once set a bomb on French's "Alma Mater." The stories go on and on.
AE: What are your thoughts on the French family?
HH: Well, the family is, in a word, complicated. And it didn't get any less so when Dan French married his cousin Mary "Mamie" French. I knew uncle B.B. (Benjamin Brown) French had worked closely with Lincoln and helped fulfill his vision of finishing the Capitol Dome even during wartime. So, across generations and in different ways, the French family did much to retain public confidence in the nation during a rebellion. What I didn't know is that B.B. once introduced Dan to President (Ulysses) Grant (a subject for one of the young man's later equestrian statues) or that Dan's father worked in the Grant Administration as Deputy Treasury Secretary, using his job to get sculpting commissions for Dan on new public buildings. My new favorite family discovery is that B.B. knew Dan was talented from the first and predicted great things for him.
AE: How important is the Lincoln Memorial?
HH: We just saw an example of how important the Memorial and statue remain to our culture when President Trump used it as a platform for his July Fourth event. Many people objected — frankly, so did I — to the militarization of a spot conceived for reconciliation. But you can't deny that various groups and philosophies have used that stage to advance their agendas over the years, including Marian Anderson, filmmaker Frank Capra, and Dr. Martin Luther King. Many people objected to their presence there when they used the space for concerts, movies, and speeches. In the end, I have to like the fact that so many Americans, of so many viewpoints, unite in believing the site is a touchstone.
AE: Is the Lincoln Memorial statue your favorite of French's works? Any others?
HH: Yes, the Lincoln Memorial was always my favorite, and remains so. If any other sculptures have worked their way to the top of my list, it is the cemetery works: the "Mourning Victory" angel at Concord, Mass., and "Death Stays the Hand of the Sculptor" (Martin Millmore Memorial) in Boston. Happily for this New Yorker, beautiful marble copies of each are on view at the Metropolitan Museum a few blocks from my apartment. I can visit all the time.